"Program your GPS and drive straight into the über-romantic, 19th-century American landscape painting of the Delaware Water Gap with its misty, tumbling cascades and craggy cliffs." – Brad Gooch for Lexus Magazine
Three tiny river towns – Shawnee-on-Delaware, Minisink Hills, and the Delaware Water Gap – are located at the southern end of the Delaware Water Gap National Recreation Area, just east of Stroudsburg. Delaware Water Gap is the eastern gateway to the Pocono Mountains, logging in at 72 miles from NYC on Rt 80 and 90 miles from Philly via NJ-31 N.
In 2018 Conde Nast Traveler crowned Delaware Water Gap National Recreation Area the most beautiful place in Pennsylvania. The Water Gap is breathtaking. The park itself has many aspects, from waterfalls, historic villages, hiking trails, wildlife, the Delaware River, ravines, forested mountains, and more.

Delaware Water Gap
Pocono is a Native American word meaning, "stream between two mountains." The Delaware Water Gap is the true namesake, for the area where Delaware River cut a gap between two mountains and formed what is now known as the "Gateway to the Pocono Mountains."
Nestled between the Pennsylvania and New Jersey border, the gorgeous Delaware Water Gap has small-town charm, rustic hiking trails, and breathtaking views of the Delaware River. In the summertime, the Delaware Water Gap is a frenzy of hikers, paddlers, fishermen, tubers, and cyclists that flock to its trailhead to the Appalachian Trail.
Delaware Water Gap is home to The Deerhead Inn, the oldest continually operating jazz club in the United States. The town is just minutes from the Delaware River, where you can go for a river trip with Edge of the Woods Outdoor outfitters. Stop into the Village Farmer and Bakery for breakfast or one of 30 homemade pies.

Shawnee-on-Delaware
Shawnee-on-Delaware, founded in 1727, is home to the 1911 A.W. Tillinghast-designed golf course which is built on an island in the river. Stop in to The Shawnee General Store Since 1859 for coffee and a sandwich.
For a longer hike perfect for a family day trip, try the 5-mile fire-trail loop trip on Mt. Minsi that brings you to the breathtaking summit via the Appalachian Trail (follow the white blazes!), and follow the fire trail down to the base. If you want to enjoy a shorter hike, the Cherry Creek Loop trail brings you through the charming Delaware Water Gap and across the Cherry Creek stepping stones, the only stepping stone system of its kind in Pennsylvania.

Minisink Hills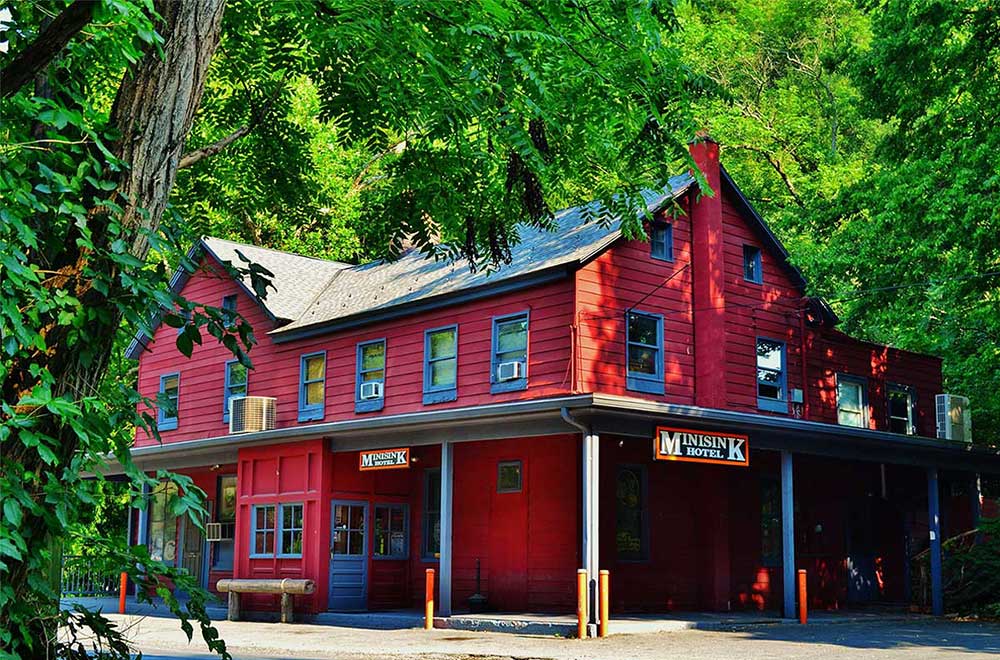 Minisink Hills is a don't blink or you'll miss it hamlet with its southern border on the Delaware River. It shares its western border with the campus of East Stroudsburg University. It's mostly notable for a couple of terrific Peruvian eateries, the historic Minisink Hotel, and canoe and kayak river trip tour outfit Chamberlain Canoes.