Sweet little Hawley on the Lackawaxen River sits on the northern end of Lake Wallenpaupack. It's a tiny post-industrial town with historic buildings and proximity to state parks. There are places for kayaking, plenty of walking trails, and spots to take out the boat. Go farther afield (but not much) and visit Promised Land State Park (12 miles away) and Prompton State Park (14 miles).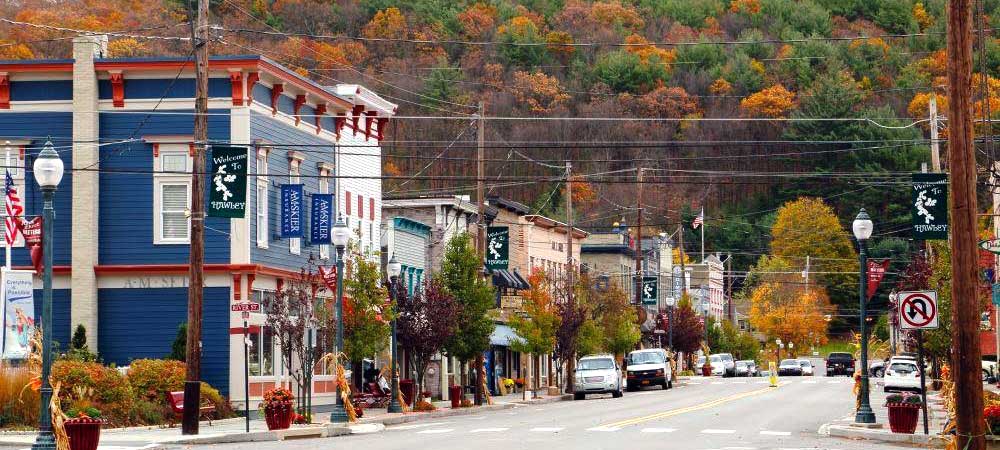 For high-end vacation fun, try Ledges Hotel, Settler's Inn, or Silver Birches Resort. Camping? Try Wilsonville Recreation Area for your RV or tent, and fish to your heart's content. We can also recommend a couple of motels on the lake, starting with the lovely East Shore Lodging.
Hawley is your northern access to Lake Wallenpaupack's 52 miles of uninterrupted shoreline. There is a lot to do thanks to the town boosters: in the summer, Wally Lake Fest, in the fall, the Harvest Hoedown, and in the winter, Hawley Winter Fest and the nearby Wally Ice Fest. It's also a great stop for campers at the state parks.
This quaint little town of around 4,500 boasts a European feel in its street sights and the big name of "Birthplace of the American Railroad." Honesdale is the perfect place for all train fans, no matter the season. Tour through Honesdale's dense forests on the iconic Stourbridge Line, the most atmospheric train ride in the Poconos. Return for snowshoeing or cross-country skiing during the winter holidays, and enjoy cozying up in cafes after nature treks.
In or around Hawley and the
Lake Wallenpaupack
area? See all of their Good Eats
here
.