Jim Thorpe is often called "The Switzerland of America" due to its European-style architecture and mountain setting in the breathtaking Lehigh Gorge. Descend via winding roads into this darling town and you'll come upon the opera house, Richardsonian federal buildings, Greek revival mansions, and small streets with little stone houses reminiscent of Dublin, Ireland.
Parking: PAID PARKING: Immaculate Conception Church Lot, 178 West Broadway. PAID PARKING: Sam Miller Baseball Field, North Avenue(Shuttle service to downtown Jim Thorpe will be included in your parking fee).

FREE PARKING: Jim Thorpe Memorial Hall, 101 East Tenth Street (Trolley service will be provided to downtown Jim Thorpe, but you must purchase tickets for the trolley service online at Jim Thorpe Trolley Company)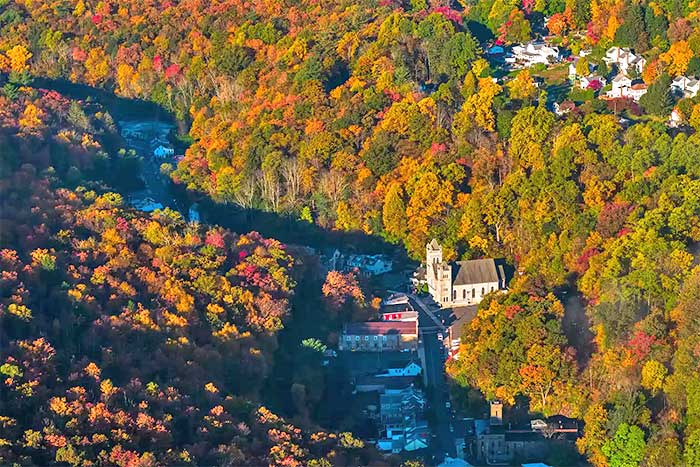 Home to less than 5,000 Pennsylvanians, Jim Thorpe has long been known for its enchanting downtown, sweeping mountain views, and historic architecture. The area presents countless opportunities for outdoor recreation.
Lehigh Gorge State Park is known for its thrilling white-water rafting on the Lehigh River as well as two popular waterfalls and trails galore.
Named one of America's 50 Most Beautiful Small Towns by Architectural Digest in 2022.
The former Mauch Chunk was renamed for the great Native American athlete Jim Thorpe (although he grew up in Oklahoma). Deep within the Lehigh Gorge, this Victorian-era mining town serves as a hub for the area's hiking trails that lead to some of the state's most beautiful waterfalls. There are lots of shops and restaurants, along with outdoor adventure outfitters that will take you river rafting and exploring the hills. Kayaking, fishing, and swimming are popular activities on Mauch Chunk Lake.
Note: Parking can be an issue during peak times. Additional parking can be found at Sam Miller Field and Immaculate Conception Church.
Today the town is the heart of the East Coast's cycling scene. It's a terrific launching pad for your outdoor adventures, with many shops, restaurants, pubs, and live entertainment. There are plenty of places to stay – historic B&Bs, inns, and hotels are located in the heart of town.
>What began as a coal mining town has transformed itself into a scenic spot along the Lehigh River near Lehigh Gorge State Park. The early 19th-century buildings hold boutiques and restaurants that fill with visitors in the summer and fall when festivals are aplenty.
In or around Jim Thorpe? See all of their Good Eats here.
When the town was founded in 1818, it was originally called Mauch Chunk, or "Bear Mountain" in the language of the native Munsee-Lenape tribe. The name was changed to Jim Thorpe in honor of the legendary Native American Olympic athlete whose body was buried here in 1954.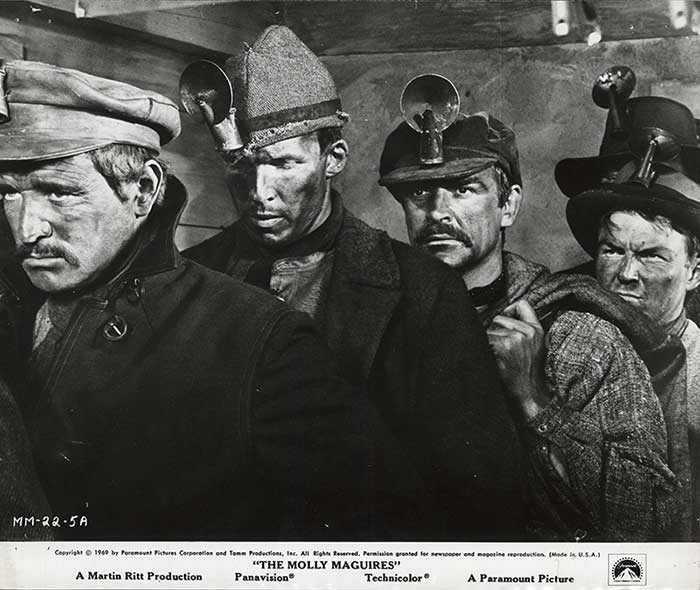 Mauch Chunk was made infamous by the 1876 trials of the Molly Maguires which resulted in the hanging of twenty Irish coal miners accused of murder by the ruthless mining companies desperate to crush the fight for better working conditions. Shot on location on the streets of Jim Thorpe, Martin Ritt's 1970 feature "The Molly Maguires" immortalized the miners' struggle.
On the subject of film, the Jim Thorpe Independent Film Festival screens at Jim Thorpe's Mauch Chunk Opera House every April/May, so give it a look.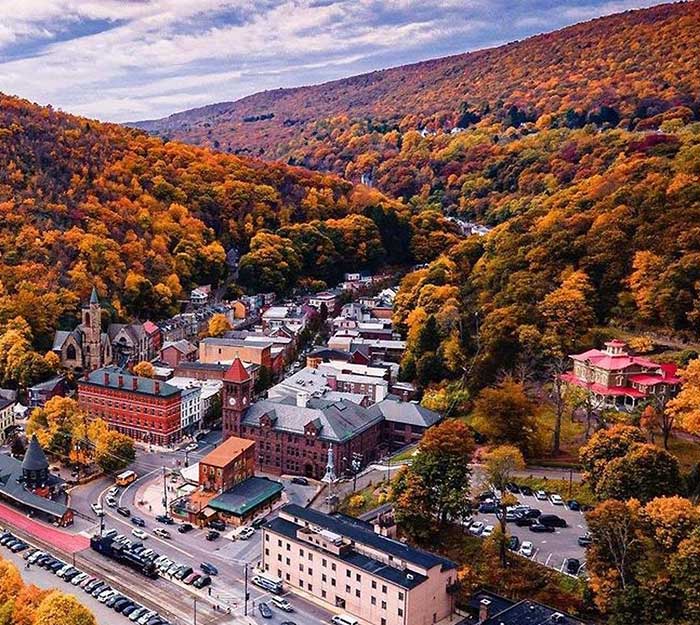 Jim Thorpe is just a 90-minute drive from Philadelphia, 2 hours from NYC, 3 hours from Baltimore, and 40 minutes from the Lehigh Valley International Airport.