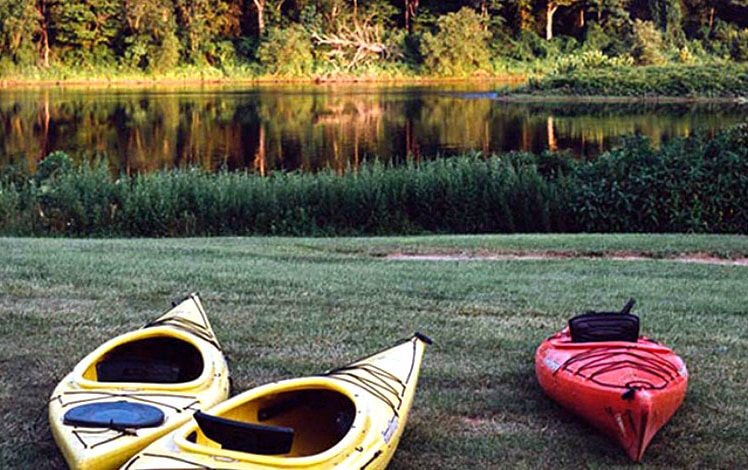 Shawnee River Trips
Shawnee River Trips offers entals of rafts, tandem or single-person kayaks, sit-on-top kayaks, canoes, and mountain bikes. Shawnee operates on a stretch of river that offers slow-moving, calm water, ad s it's great for beginners, fishing, and languid trips through the beauty of the river.
Take a fishing trip or a guided river trip. Shawnee's property sits on the edge of 70,000 acres of the Delaware Water Gap National Recreation Area, and the historic Delaware River. Open from approximately mid-May to the end of September or very early October, depending on the weather.
Choose from Smithfield Beach to Shawnee for a 3-mile trip, Smithfield to Kittatinny for 6 miles, or the 13-mile Bushkill to Shawnee trip.
Rates include canoes, kayaks, or rafts, as well as paddles, required life jackets, orientation, shuttle transportation, and parking. Children must be at least 4 years old and weigh 40+ pounds to participate.
Add glamping to your river trip for the perfect nature experience, or take a side trip for golfing at the Shawnee Inn and Golf Resort.
"Had an awesome time with good friends on the river! Equipment in great shape. Staff helpful and courteous. We'll be back again. This place's staff was also very helpful and accommodating on the phone. A must-do to see The Delaware River!" –Tom Johnson-Medland
Specials include Canon & Brew, Twilight Paddles, and Guided River Trips. More info available here.