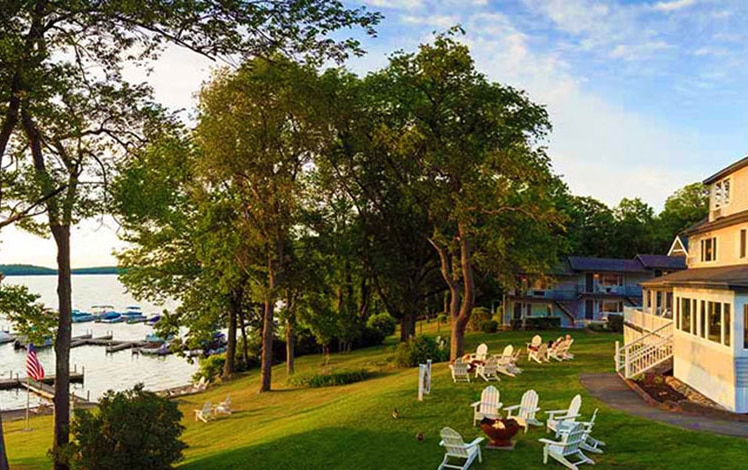 Silver Birches Resort is vintage lakefront on Lake Wallenpaupack, featuring The Dock on Wallenpaupack and The Waterfront wedding venue. Perfect for a relaxing vacation, weekend getaway, couples retreat, or family trip.
In-season, enjoy the heated outdoor pool. Paddleboats, rowboats, and canoes are available for rental.
Resort lodging is made up of a collection of thirteen vintage structures dating back to the 1920s, including guest rooms, cottages, and houses. All buildings face nearly 700 feet of shoreline on Lake Wallenpaupack, and offer views of the lake. Many have porches, decks, balconies, fireplaces, and whirlpool tubs.
Standard rooms feature a queen bed, a private bath with a walk-in shower, and an expansive view of Lake Wallenpaupack from the porch. Amenities include a flat-screen TV with cable, WiFi, a Keurig Coffeemaker, Comphy bed linens, and daily access to Lake Region Fitness, a state-of-the-art facility located in the Hawley Silk Mill.
Guest rooms are housed in five buildings and offer a wide variety of accommodations. All rooms have a view of the lake.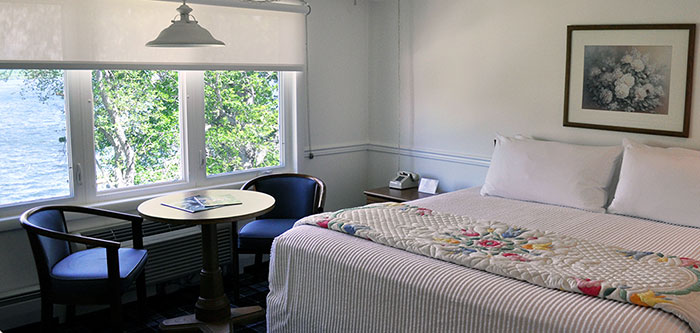 The Inn
The cornerstone of Silver Birches and the oldest structure, this farmhouse was completely renovated in 2016 but dates back to the 1920s. Enjoy the common room with a fireplace and a sunroom.
The Inn houses three deluxe king-beds in rooms on the first floor with fireplaces and direct access to the wide front porch. The second floor offers two deluxe suites, a living room with a fireplace, a king-bed room, and master baths. All have picture windows and dramatic views. The third floor offers two junior suites with king-sized beds, and a master bath including whirlpool tubs, and den.
The Lakeshore
This building dates to 1966 and features mid-century architecture. Eight guest rooms all have private entrances and balconies with an array of rooms including two rooms with queen beds, four rooms with two double beds, and two deluxe rooms with king beds. This building was entirely redone in 2016 with all new bathrooms and an eclectic blend of mid-century furnishings.
The Sunset View
This building was once the barn for the original Singer farm but there is nothing barn-like about it now. Three deluxe suites with private decks, rooms with king beds, master baths, and wet bars are on the first floor. The second floor houses two deluxe king rooms with en-suite whirlpool tubs and fireplaces.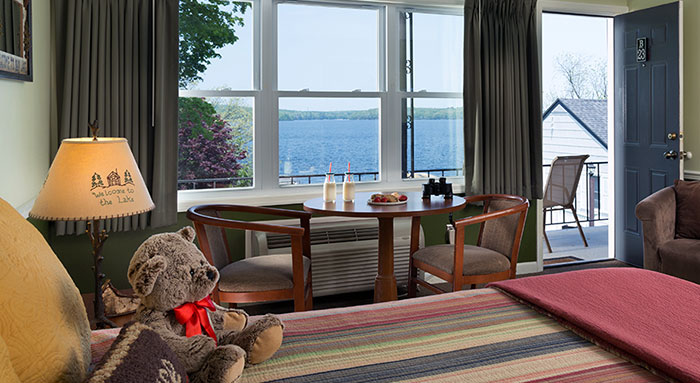 The Bunkhouse
Designed for families, the bunkhouse is a collection of four two-bedroom suites. Each contains a master bedroom and a second bedroom with one full-size bed and bunk beds. This is a place where family memories are made and treasured.
Cottages
There are five vintage two-bedroom cottages on the property. Cottages are rented weekly during the high season of July and August. All have an outdoor deck, two bedrooms, a living room with a fireplace, and a full kitchen. They have easy access to the pool and lakefront.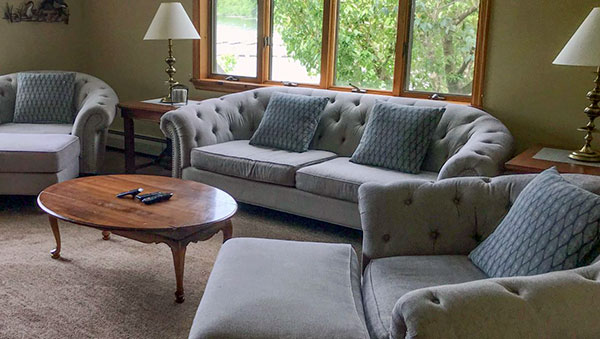 Houses
Singer Lane is the home to three houses on the property, The Retreat, The Landing, and The Big House. The Retreat and The Landing, both built-in 2015, have three bedrooms, and sleep six guests privately/ten guests total; all have a private bath, a living room with fireplace, a kitchen, and dining areas. Each house has a deck and an outside grill.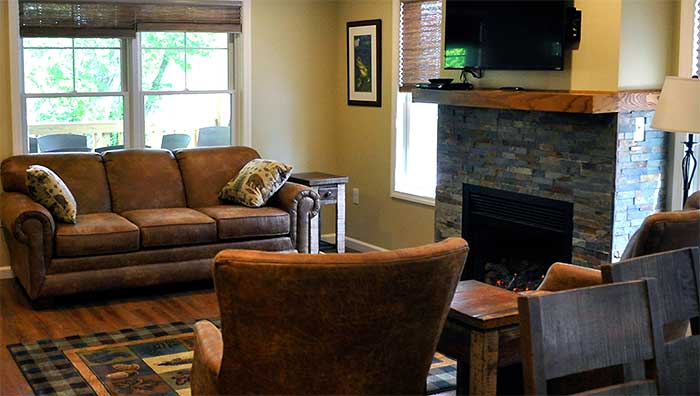 The Big House sleeps up to ten guests. It is the perfect lakefront home for a large family or group vacation. It has three bedrooms, three bathrooms, den, living room, kitchen, dining room, family room, and huge deck facing the lake. All houses have laundry rooms.
The very luxurious Fairview House is 5 miles away in Tafton at Fairview Lake. It will accommodate up to 14 people, and like the other houses, has full access to everything that is Silver Birches.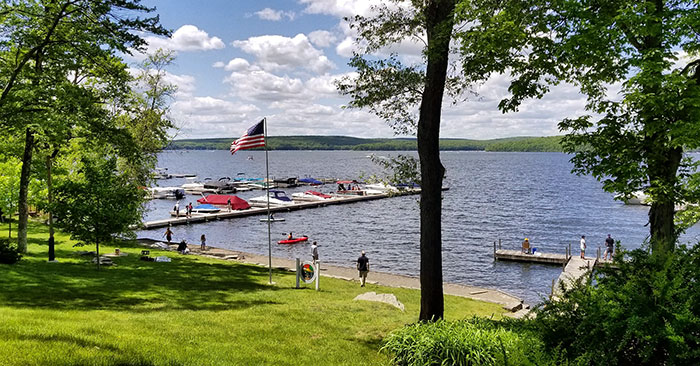 Note: The Green Lodging Partnership Program is a natural fit for Silver Birches and its sister properties, Ledges Hotel and The Settlers Inn. They focus on being sustainable and on the preservation of this beautiful region.
The Green Lodging Program works as follows: A $2.00 donation automatically added to each reservation is contributed directly to the Conservancy to support its conservation mission and assure that all the special places, scenic beauty, and outdoor recreational opportunities that bring tourists to the Upper Delaware River region are protected now, and every time they visit in the future. Guests may opt-out, but the successful launch of the program shows that very few have.