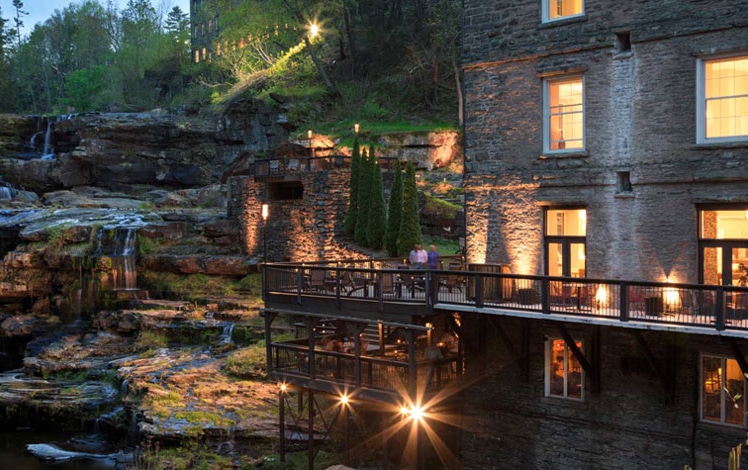 Ledges Hotel is a luxurious boutique hotel that affords both modern conveniences and rustic charm settled between the flourishing natural beauty of rock ledges and Paupack High Falls,
This Federal-style structure was originally built in 1890 for the John S. O'Connor Glass Factory and is a reminder of the deep culture and heritage of the area's manufacturing industry.
Guests can view the two-tiered waterfall from a series of observation decks; the Great Room (where you can simultaneously cozy up by a fire); Glass, an on-site lounge specializing in wine and light fare; and the guest rooms. Recent guests of this full-service hotel say the ambiance is top-notch.– U.S. News and World Report
Huge bi-level suites have 12-foot ceilings and kitchens (or kitchenettes) and beautiful nature views. A feature of the hotel is its series of multi-tiered decks with more of those beautiful views.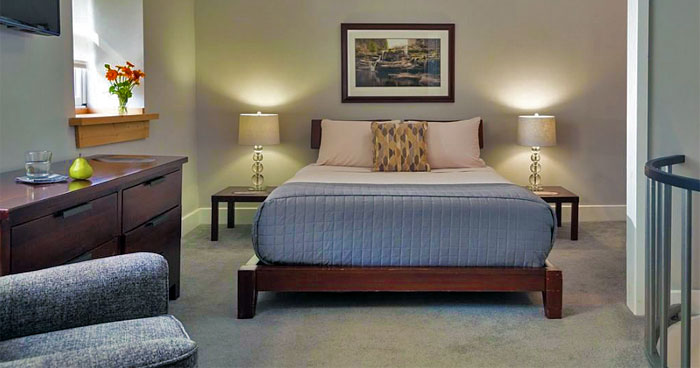 The Deluxe Full-Service Suite is a two-story accommodation with 12-foot ceilings and a spiral staircase. The suite features a living space and full-service kitchen including dishwasher, microwave, stove, and refrigerator. The bedroom located on the second floor has a king bed with down pillows, "Comphy" sheets and bed cover. The bathroom features a shower and a Jacuzzi tub.
There's a Tesla charging station and free WiFi. Free artisan pastries, muffins, breads, and coffee each morning are special touches. Glass Wine Bar offers very good farm-to-table food and craft cocktails. Make arrangements with Ledges when you book and bring your pet!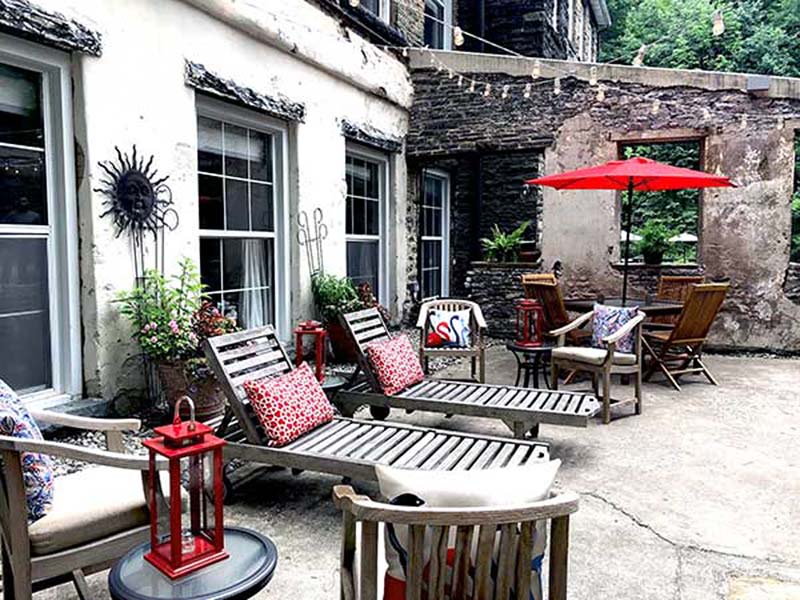 Find packages and specials at the Ledges Hotel website. Ledges Hotel is also expert and will help you plan your beautiful Ledges Hotel wedding.
"The hotel room was very nice, with updated decor, and I was impressed by the bathroom sink (I know that's weird, but it's a really nice green glass sink). The restaurant, Glass, was outstanding. We had the Ahi tuna, the duck, mac and cheese, and green beans; all were very delicious. The hotel and restaurant staff were pleasant and accommodating. I would definitely visit both again."
Note: The Green Lodging Partnership Program is a natural fit for Ledges Hotel and its sister properties, Silver Birches and The Settlers Inn. They focus on being sustainable and on the preservation of this beautiful region.
The Green Lodging Program works as follows: A $2.00 donation automatically added to each reservation is contributed directly to the Conservancy to support its conservation mission and assure that all the special places, scenic beauty, and outdoor recreational opportunities that bring tourists to the Upper Delaware River region are protected now, and every time they visit in the future. Guests may opt-out, but the successful launch of the program shows that very few have.