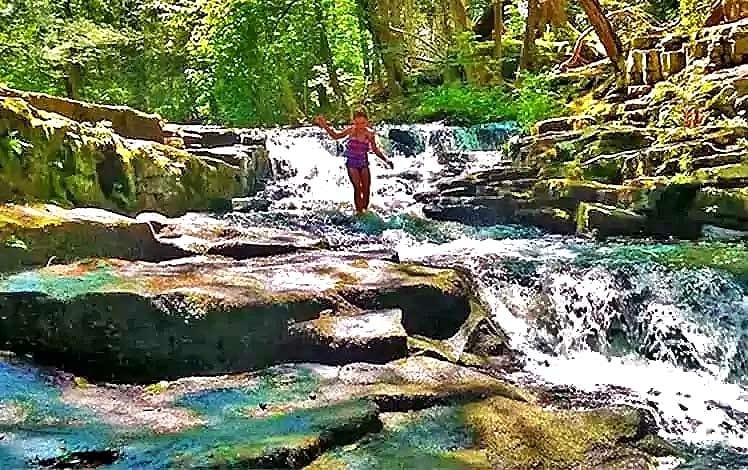 This place has EVERYTHING! Promised Land State Park is great for picnicking, bird and wildlife watching, trail biking, and hiking. Hike miles of trails and go boating, fishing, and swimming in 2 lakes. Take out a rowboat, canoe, paddleboat, and a one or two person kayak.
Stay Overnight
Visitors to Promised Land State Park who wish to stay overnight have a choice of staying in one of four campgrounds with RV/tent sites, or in rustic cabins that were built during the Great Depression by the Civilian Conservation Corps.
Camp with your tent or stay in a cabin (book early!) or make it a day trip any day of the year. This beautiful place consists of 3,000 acres on the Pocono Plateau that are 1,800 feet above sea level. It is surrounded by over 12,000 acres of the Delaware State Forest.
You can, of course, skip the super rustic vibe and stay at the neighboring luxurious micro-hotel The Rex, so take a look!
Hungry? Grab a bit a the nearby Promised Land Inn, with its taxidermy-clad space and neon beer signs. It features a meat-heavy menu and is a great spot to sample local beers.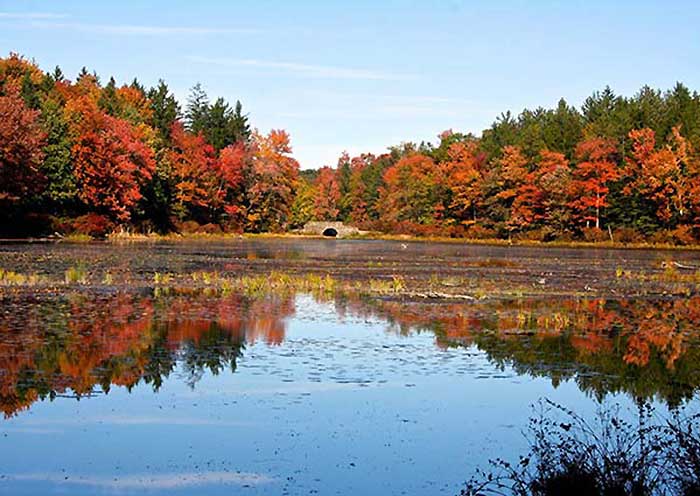 The second-growth forests are made up of beech, maple, oak and hemlock trees. There are two lakes within the boundaries of the park – Promised Land Lake and Lower Lake. The 422-acre Promised Land Lake offers approximately nine miles of shoreline, while the 173-acre Lower Lake has almost four miles.
The park is home to a variety of woodland creatures, including white-tailed deer, grey foxes, and wild turkeys. A wildlife observation deck is located on Lower Lake and provides a great spot to view waterfowl species and bald eagles that have nested in the area.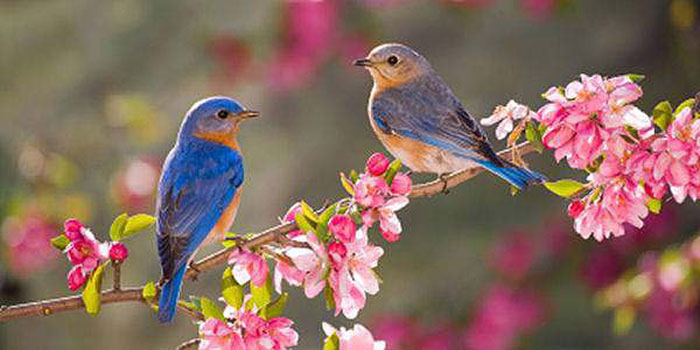 There is a centrally located picnic/beach area in a woodland setting near Promised Land Lake. The facilities include a sandy beach, boat launch, parking area, fresh water, picnic tables, reservable pavilions, garbage disposal containers, charcoal grills, a concession stand, a boat rental, a sand volleyball court, and restrooms with pay showers.
Hike and Bike
With 50 miles of scenic trails, Promised Land State Park is one of the best places in the mountains to enjoy hiking and biking. The large trail system spills over into the Delaware State Forest that surrounds the park. The trails pass through a variety of habitats and give visitors an opportunity to observe the diverse wildlife population. Hiking is superb all year round, with options for different skill and time-commitment levels.
Walking trails are marked with vertical blue blazes. The 2.5 Little Falls Trail loops around the lake and passes several cascading streams (and is super instagramable). There are also designated trails for ATV riding and mountain biking. There is a paved path around the lake for cyclists.
Bring your bicycle and cruise the 6.5 miles of paved roads around Promised Land Lake, Lower Lake, and the park's six campgrounds. Bicycles do share the road with vehicles, so use caution. Children 12 and under must wear a helmet.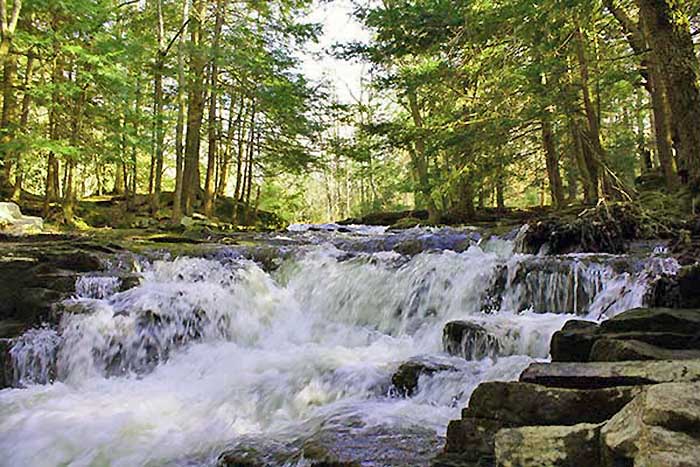 Boat, Fish, Swim
Promised Lake and Lower Lake are both popular fishing and ice fishing destinations. The common game fish are smallmouth and largemouth bass, catfish, crappie, pickerel, muskellunge, and yellow perch. Lower Lake is stocked by the Pennsylvania Fish and Boat Commission with brook, rainbow, and brown trout. All anglers are expected to follow the rules and regulations of the Pennsylvania Fish and Boat Commission.
Whether you want to splash in it, float on top of it, or cast a line in it, Promised Land State Park overflows with opportunities for water recreation. There are two sand beach areas for swimmers. The main beach is in the Day Use Picnic Area and the other is located at Pickerel Point. Beaches are open from late May to Mid-September. There is no lifeguard on duty, so visitors may swim at their own risk.
There are two lakes within the park. Promised Land State Park is 422-acres with nine miles of shoreline. Lower Lake measures 173-acres with four miles of shoreline. Boats with electric motors are allowed on the water, which is accessible via five boat launches. The park also offers boat rentals across from the main beach. Visitors may take out rowboats, canoes, kayaks, and paddleboats from Memorial Day to Labor Day.
Fishing is a popular activity year-round with anglers trying to hook largemouth and smallmouth bass, pickerel, muskellunge, yellow perch, sunfish, and catfish. Lower Lake is also stocked with brook, brown, and rainbow trout.
There are five boat launching areas. Five boat mooring areas offer a total of 170 mooring spaces, which may be rented from April through October each year. A concession is open on the shores of the lakes for renting canoes, kayaks, and paddleboats.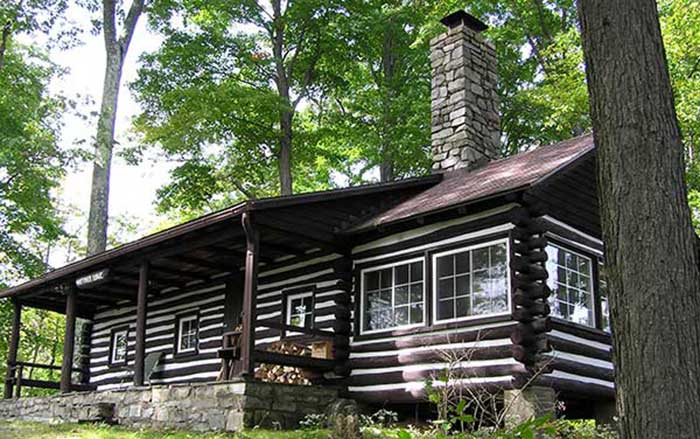 Ice Skating
Yep, ice skating, too. The state's Winter Report provides ice and snow depth information for state parks.
Once winter falls, the trails within Promised Land State Park give way to snowmobiles, cross country skis and snowshoes. There are over 23 miles of groomed, designated trails for registered snowmobiles while skiing and snowshoeing are allowed on all trails. Ice fishing and ice skating are popular lake activities during winter. Visitors should be mindful that lake thickness is not monitored so take precautions to ensure conditions are favorable to support the weight.
While you're here, enjoy hiking, fly fishing, test your lumberjack skills throwing axes at Pocono Axe Works, and slake your thirst at the Wallenpaupack Brewing Co taproom. Just next door you'll find The Wake Zone for snacks, games, and more beer.
Those last 3 involve alcohol and loads of fun – enjoy responsibly!