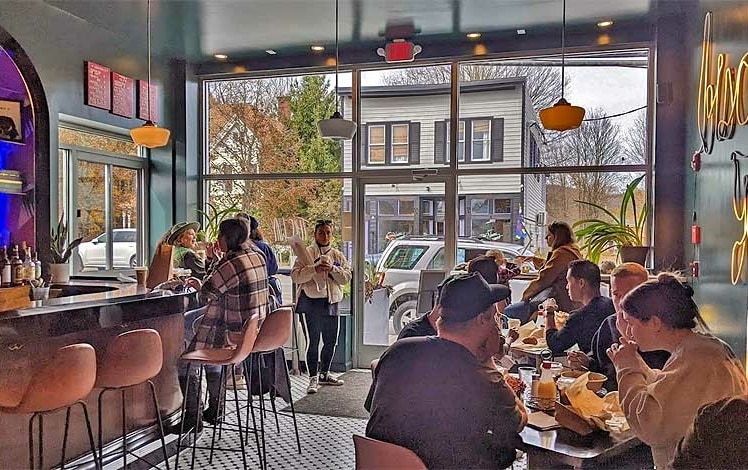 Walk In
The Walk In is a super breakfast and lunch cafe using organic ingredients for their terrific sandwiches, salads, and breakfast biscuits.
These Southern gals make biscuits according to one's great grandmother. Their biscuits are mixed by hand, rolled by hand, cut by hand, and baked fresh daily at their across-the-street bakery, The Neon Croissant.
"These loaded breakfast and lunch selections might come with ham hock braised collards, local eggs, and Catskill Smokehouse ham; or buffalo fried chicken with bleu cheese, carrot, and celery; or refried beans, scrambled egg, avocado, queso fresco, and charred salsa."– Chronogram
The meat they use is antibiotic free and locally sourced. They bake most of the breads for sandwiches across the road at The Neon Croissant. They use organic ingredients whenever possible, and source locally. Local sources are Channery Hill Farm, Catskills Smokehouse, Catsmo, Koch's Turkey, Esposito Sausage, Ronnybrook Dairy, Cabot Creamery, Clover Farms, Elmhurst, Lioni, Heller's Farm, Lancaster Farm, Taproot Farm, Neversink Farm, Somewhere in Time Farm, and many more.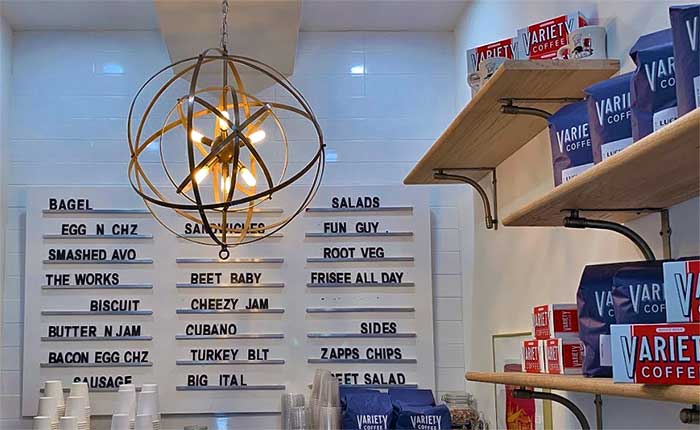 They've got coffee, espresso, cappuccino, and matcha and chai lattes. All of their beans come from Brooklyn's fabulous Variety Coffee.
At 5 pm they close, and reopen as Stumble Out, a full bar with an amazing dinner menu.
"This place is a dream taken straight out of Brooklyn and deposited in the middle of this small town. The food quality from here was akin to something you would in a larger metropolitan area. The biscuits are absolutely the best we ever had and if you eat the BBQ you will be stunned how good it is. Be back again with a box to take biscuits home."

"Moved upstate from Brooklyn last year. Haven't been able to find my sandwich spot up here until I discovered The Walk In! Everything absolutely amazing! Best bacon, egg, and cheese I've ever had! Literally every sandwich is amazing. The Big Italy and Roast Beast are my go-to. I always get a sandwich for later, lol I will be back here a million times! Highly recommend!"