Antrim Streamside offers cozy cabins and upscale cottages on a private Catskills estate just 2 hours north of New York City.
Set on the banks of the Willowemoc, Antrim Streamside is a boutique property on a gated estate in the heart of the Catskills. Each private accommodation is independently situated, with a kitchen or kitchenette, so guests can continue to practice safe social distancing while being able to enjoy a relaxing getaway.
When you're looking to get away from it all and want an isolated cabin in the woods, but you're also from the city and scared of the sounds of the woods and ticks and bar soap, then this is the perfect option. Behind a gate with a code, there is a selection of six different-sized cabins to choose from, depending on how big your party is. Accommodations have been fully renovated and can sleep over twenty people in six simple, yet elegant lodging options.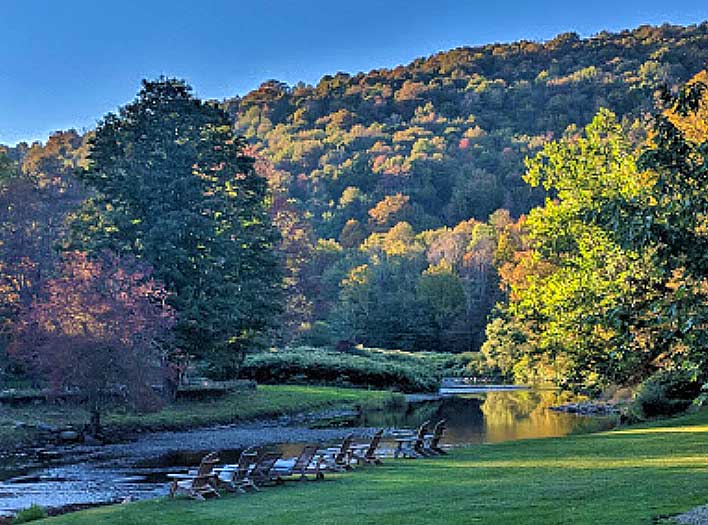 All accommodations are non-smoking and include heat, air conditioning, Wi-Fi, device charging stations, and phone service. Each accommodation features a private entrance, renovated modern bathrooms stocked with custom luxury amenities and robes, and fully-equipped kitchens or kitchenettes for making meals.
The bedrooms are furnished with organic cotton mattresses, luxurious sheets, and Pendleton blankets.
Antrim Streamside features four upscale cabins of varying sizes, each with fully equipped kitchenettes, screened sleeping porches, and additional outdoor showers. Each cabin is equipped with modern amenities and is named by its location and/or view on the property.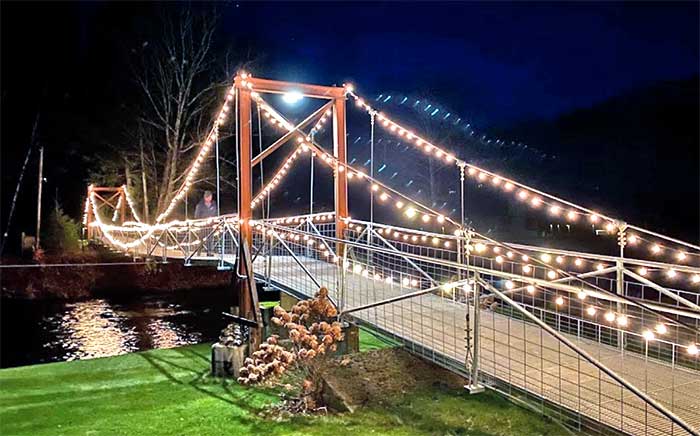 Antrim Streamside features two larger accommodations – The River House and The Stone Cottage. Located on the south bank of the Willowemoc, The River House offers extensive privacy. It features three bedrooms with ensuite bathrooms. It is the property's largest accommodation, featuring a spacious interior and plenty of outdoor space for entertaining or simply relaxing. The Stone Cottage is a two-bedroom, one-bath cottage. This cottage features two decks, a stone fire pit, an outbuilding, and an enclosed animal pen. These units are ideal for larger groups and families seeking an escape to the countryside. It's the only pet-friendly stay.
Antrim Streamside guests can purchase locally-sourced food and drinks to be made available in their accommodation upon arrival, or during their stay. They'll arrange onsite yoga, massages, or a private chef.
"I have been to many properties in the Catskills and none of them can equal the combination, of serenity, attention to detail, comfort, and seamless connection to nature. Whether a weekend romantic weekend getaway for two, a family reunion or a corporate retreat, this property is perfect in every way. You can fly-fish in the famed Willowemoc Creek, or hike the river walk trail, or simply sit on a chair, cocktail in hand, and watch the stream meander in front of you. It is a 5-minute drive to downtown Livingston Manor, yet a world away. The perfect Catskill destination. Can't wait to return."