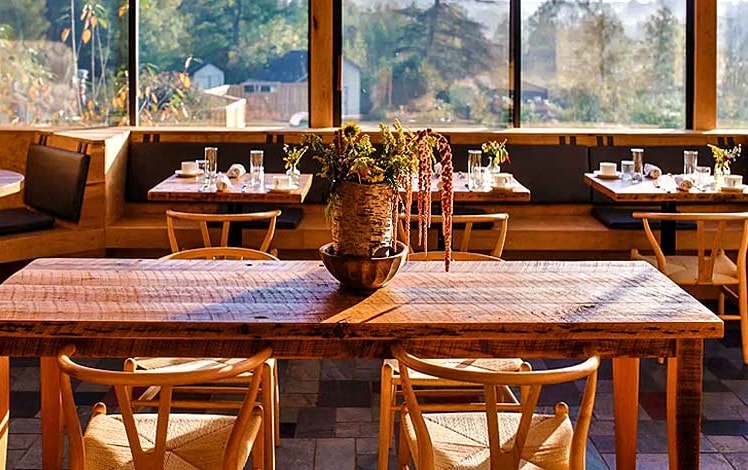 Esquire Magazine has named the restaurant at the DeBruce as one of the best restaurants in America. The DeBruce itself is called of the best new hotels in the world by Conde Nast Traveler. The husband-and-wife duo behind the inn were semifinalists in 2023 for a James Beard Award.
Nominated in the 2023 James Beard Foundation's Restaurant and Chef Awards as a Semi-Finalist for Outstanding Restaurateur.
The in-house restaurant helmed by Chef Aksel Theilkuhl, with a rotating menu featuring fresh produce sourced from the property's 600-acres and meat and dairy from local Sullivan County suppliers. They serve a nine-course tasting menu focused on local vegetables and fish.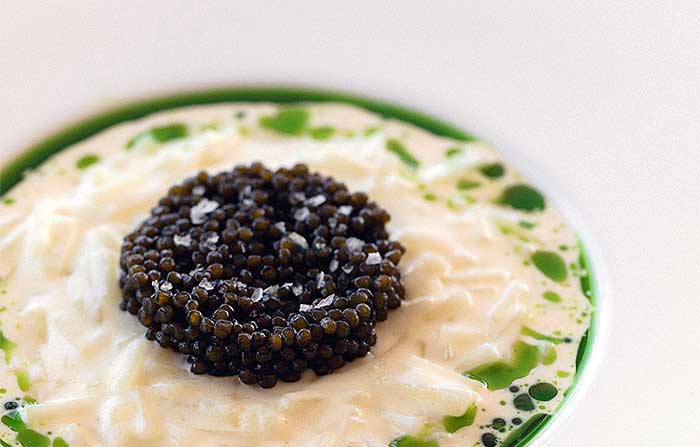 Dishes elevate a single ingredient rather than deconstruct it. Courses are named prosaically: trout, pea, beetroot, mushroom, spring onion, etc. The locally caught fish is particularly lovely – trout toast is a strong recommendation for breakfast, as is the duck hash. Meal times are slightly odd – depending on how many guests are booked in, you'll eat at 6.15pm, 7pm or 9pm. Friday has more flexibility but only four courses are available.
The spirits and beer list is informed by the bevy of local breweries and distilleries that pepper the Willowemoc Valley, like Upward Brewing Company and Catskill Brewery in Livingston Manor, and Do Good Spirits in Roscoe.
On Saturday and Sunday The DeBruce is open from 11 – 12:30 for brunch and reopens from 5:30 – 10 for diner. Same on Sunday, except that dinner closes at 9.
The Club Room in the basement is a great place to sink a nightcap or three, and serves a casual menu of small plates, including empanadas and tacos.
"We went last Sunday night for the tasting menu at The DeBruce restaurant. It was exactly what we needed to cheer our spirits. The menu was eight courses and did not disappoint. The bread with sunflower salt, raw trout that smooth as salmon, foie gras with plum (yum). My pièce de résistance was the aged beef with summer berries. The dinner ended up with the fun and unforgettable combination of peaches with caviar; who knew they could go so well together. The meal is eaten while looking out of DeBruce Inn's picture windows that face the rolling hills of the western Catskills near Livingston Manor. We had the added bonus of watching the moon rise above us, as if on cue. It is worth making a reservation, moon not required."