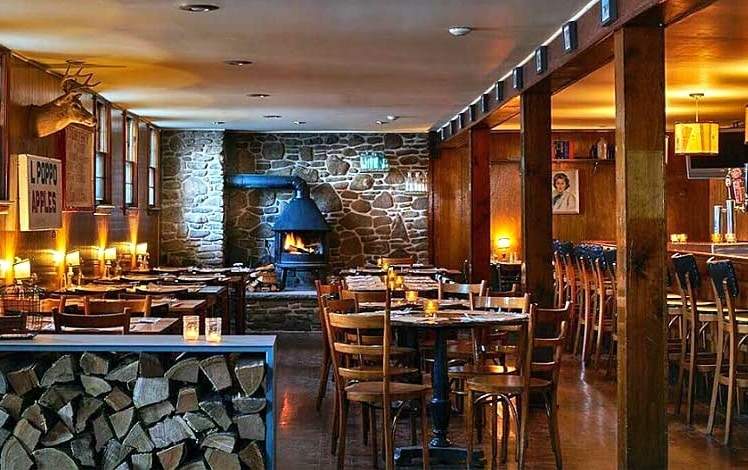 The Arnold House Tavern
The Arnold House Tavern is located on Shandelee Mountain, near the quaint town of Livingston Manor. Of course, it's located in the perfect Catskills hotel, The Arnold House.
The Tavern is much the same now as it has been for the past 50 years. Guests will find friendly, warm and lively service and a menu that embraces comfortable accessibility and local ingredients including trout from the world famous rivers.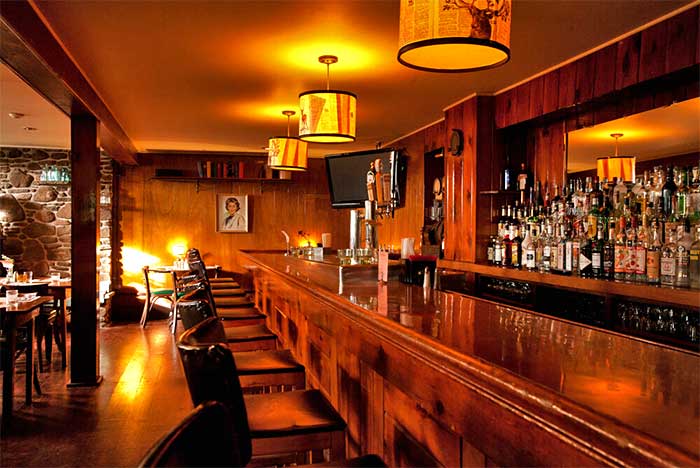 "This is like the ultimate basement rec room with a pool table, a jukebox and multiple stuffed deer heads on the wood-paneled walls. If it's cold enough, the smell of the wood burning stove might be comforting, otherwise, if it's warm, the screened windows will all be open, allowing the woodsy breeze to waft through.
We went for brunch and started with a delicious local smoked trout dip, followed by a solid bean veggie burger, but the ever-changing menu also had a super steak selection, and northern farmhouse ravioli. The atmosphere encourages lingering over a local craft brew. Stop by with the family on Sundays for their weekly Sunday Pig Roast with a whole pig, sides, cocktails, live music and a bonfire that runs $25 for an all-you-can-eat feast. In July, Summer Fridays will join the rotation with live music, bonfires and drinks—dancing barefoot is mandatory."– Brooklyn Based
"Our group of 12 went to the tavern on our last night of family vacation. Everyone enjoyed their food, from salads to burgers to fish. My trout was so beautifully presented and delicious! Would love to come back some day. The atmosphere is something special."

"Whether stopping in for a beer or cocktail, for a bite to eat, for a special event out in the barn, or for a casual get-together with friends, indoor or outdoor, you picked the right place visiting the Arnold.The staff and atmosphere are warm and welcoming, the prices are very reasonable with generous portions."