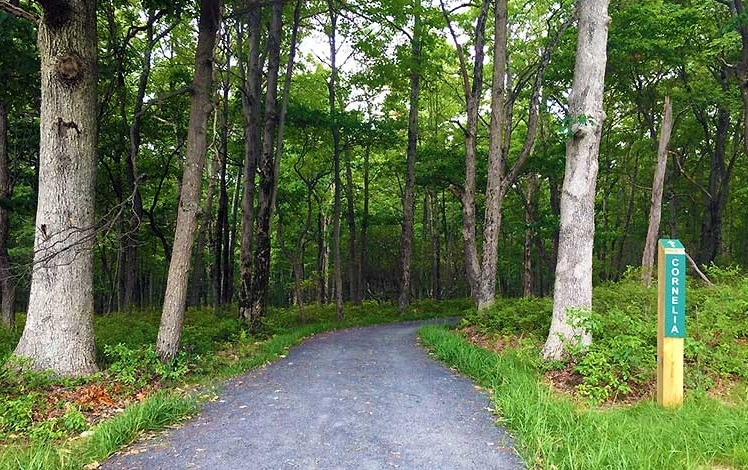 This 300-acre property straddling Route 6 and Milford and Dingman Townships was donated for public enjoyment by the Charles Bridge family, who owned it for generations. The 250-acre Northern Parcel opened in late 2015, with hiking and mountain bike trails through mostly deciduous forest, meadows, and wetlands.
It's one of the most peaceful hiking trails in Pike County, and the very best for handicap access. The trail meanders through a forest of mature trees. Be on the lookout for deer, bear, wild turkey, and the occasional snake. Wear good shoes.
Overall a nice and fairly easy walk, good for families and walking the dog, with a pleasant spot for a picnic. The sign does warn to keep an eye out for rattlesnakes & ticks.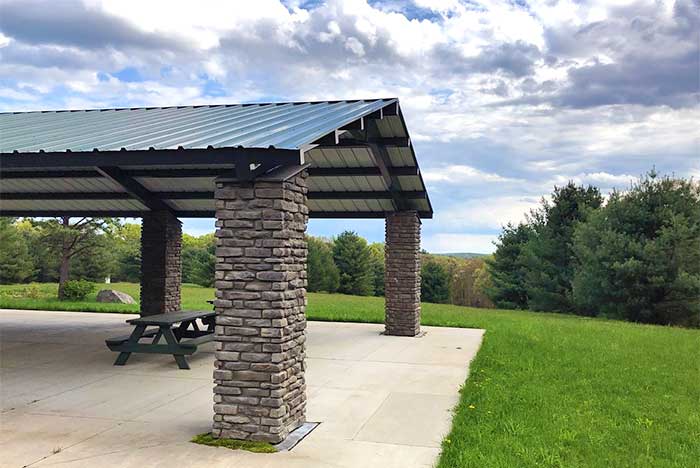 The paved Cornelia Trail is the main one, wide & firm, ADA (Americans with Disabilities Act) accessible (packed rock chip paved), a fairly gentle trail with switchbacks for a meandering walk up to the meadow-set new pavilion with picnic tables and restrooms. Along the way, there are very nice rustic low benches made of planed tree trunks set on tree trunk rounds.
The Florence Trail is unpaved and leads to a small pond and wetlands; you can also see the remnants of an old one-room schoolhouse near the road. The trails are not very steep and have post markers.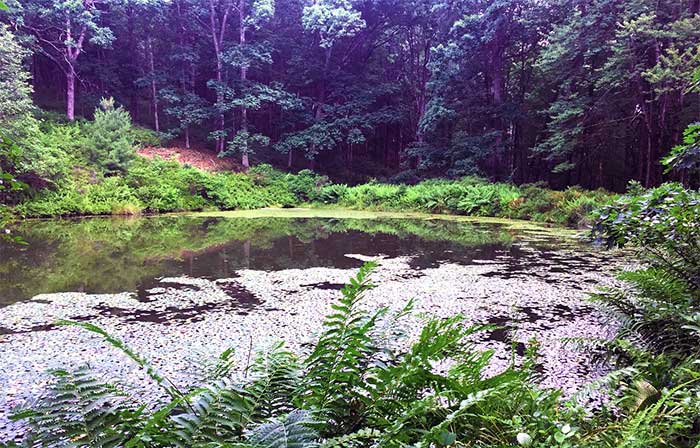 Including a trail that could be available for all abilities was highly important during the site planning of this 300-acre natural park in honor of Charles P. Bridge. He was a humble man who sold penny candies to children at his well-frequented gas station in Milford. When he donated his family's property to Dingman Township under a Conservation Easement with the North American Land Trust in 2007, he wanted to ensure that everyone could be inspired by his family property.
Mr. Bridge, also endearingly known as "One-Armed Charlie", had survived an accident in his youth that resulted in the amputation of his arm. He personally understood the limited opportunities and discrimination that confront those with physical handicaps. Charlie felt it essential that all sorts of people be able to access and enjoy his family's beautiful land, just as he had in his youth.
The Cornelia and Florence Bridge Preserve is a model in its thoughtful accommodation of people of all abilities, and in this way, "One Armed Charlie" continues to give back to his community.