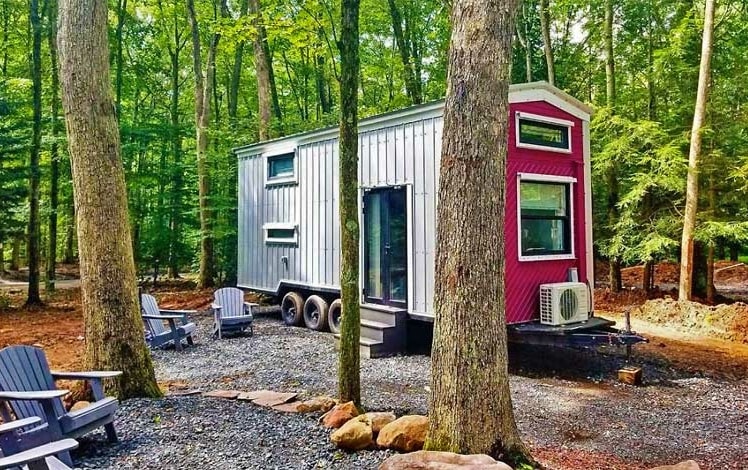 Camptel Poconos is a luxury glamping resort that offers stylish and streamlined accommodations in tiny homes container homes for nightly rental.
They keep things cozy with 25 tiny homes tucked in 20 acres of snowy deciduous forest. A sauna, hot tub, and fire pits are on site, and it's a ten-minute drive to the slopes of Jack Frost and Big Boulder ski area.
"Camping doesn't have to mean rustic!"
Each of its shipping container homes and tiny homes offers you the spirit of luxury camping. They've got private outdoor grills, propane fire pits, and seating. Interiors are just like home, with bedrooms featuring linens and a TV, luxe bathrooms with a shower, kitchens with a refrigerator, microwave, and coffeemaker, and living areas with a TV.
Their Gotham Fireside Grille is a full restaurant and bar experience. Order up some seasonal fare and enjoy a fine wine, cocktail, or craft beer.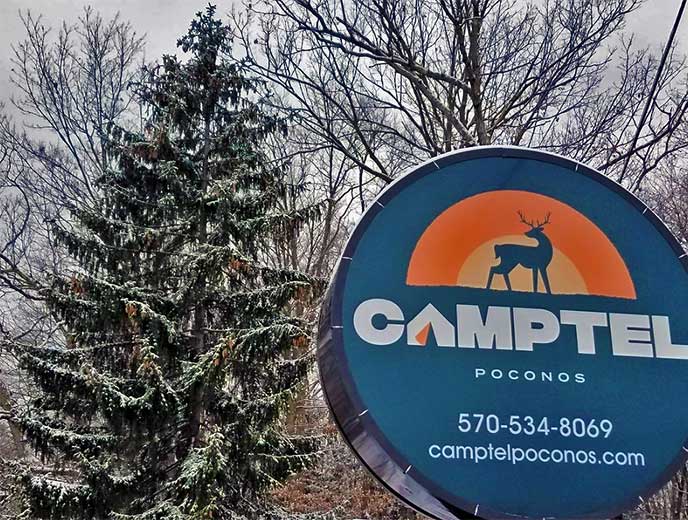 Camptel is located next to Hickory Run State Park where you can hike, swim, and fish. You're also just 15 minutes from the town of Jim Thorpe and its boutiques, museums, and restaurants. It's just 10 minutes by car from Pocono Raceway.
Yes, you can bring your pet! There's a flat fee for up to two dogs which must be under 25 pounds.
"Very cool spot with a very unique ambiance. I think this place will be getting more and more popular as it becomes discovered. Very much enjoyed our brief stay. Exceeded expectations in every respect."

"I think they are absolutely adorable!! Some of us outdoorsy couples like the camp feel, without needing a tent. We don't own a camper, because we have a boat. I look forward to our stay in the spring!"

"The trailer and amenities are great and in perfect condition and well maintained. The town and people around are nice and very close to the beautiful Lake Harmony. But the staff and Manager are way over the expectations, great people and always there to help you with all your needs. We lost a pair of Rayban sunglasses and a few days after Cesar Sanchez, the manager, contacted us because they found them outdoors around the trailer and proceed to send it by mail back to us! 6 stars for them! Thank you!"