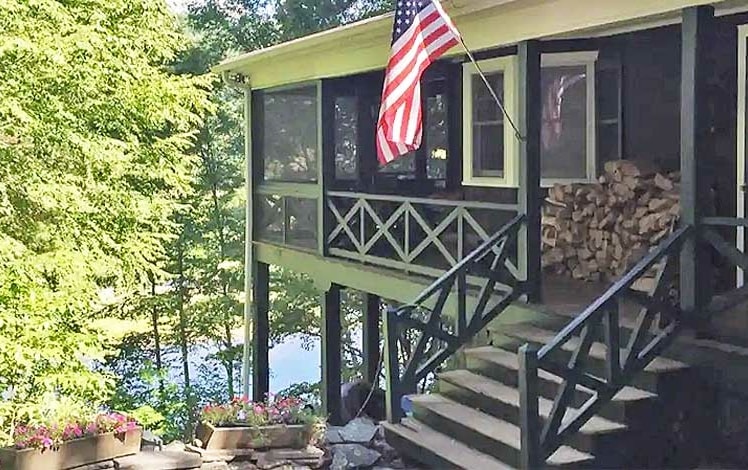 This Delaware River Retreat hosts 7 guests in 3 bedrooms with 4 beds and 2 baths. This beautiful country home is located directly on the Delaware River. The house features a full kitchen, a large dining room, and two porches that overlook the river. Watch the eagles, warm up by the fireplace, ski, hike, fish, canoe, swim, eat, and laze about. With high-speed cable and WiFi, and tons of space inside and out, this house is perfect for a getaway and for families and couples.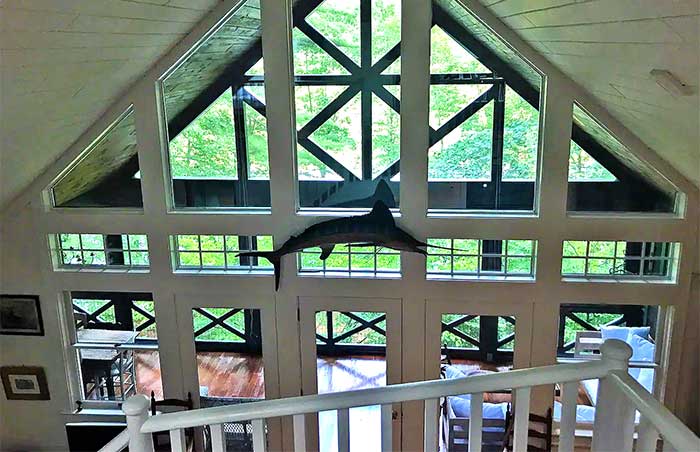 This Adirondack-style house sits on an acre of land and was created out of an old Delaware River cabin. The house was substantially renovated approximately 30 years ago; the entire roof was vaulted 15 feet creating a dramatic ceiling in the living room (approximately 20 feet) which extends from the lofted second floor through the glass windows outside to the main sitting porch overlooking the river. With the windows open or while sitting on the river porch, it feels like you are sitting high up on the forested riverside.
While summer, spring, and fall are all incredible times to visit, the fireside views from the living room in winter are amazing. The lower yard, which is accessible by a stone walkway and winding path, is another great place to spend time enjoying the view and the river sounds. Five Adirondack chairs and two chaise lounges are set in a semi-circle around the fire pit.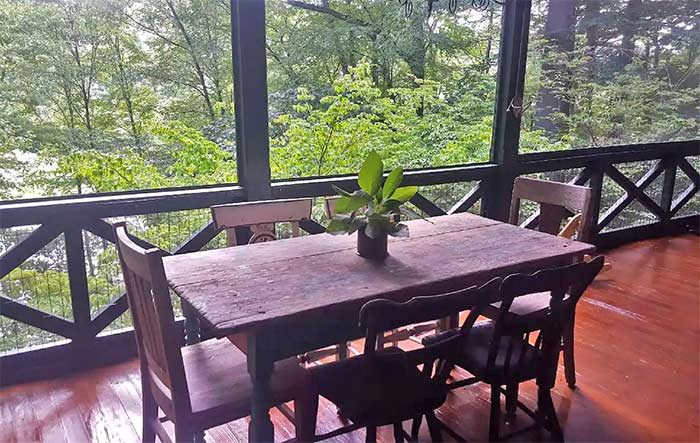 The lower deck is located immediately riverside, just below the fence down a path accessible from the lower yard. Immediately riverside there are swaths of open grass "beach" and massive river rocks to relax on.
For your babies and tots, you'll find a crib, baby bath, high chair, Pack'n Play travel crib, children's dinnerware, baby safety gates, a baby bath, and children's books and toys.
Landers River Trips is located close by at Skinner's Falls. Landers will rent canoes, tubes, kayaks, and rafts, and will assist in planning any river trip for you.
"Picture perfect! The cottage and amenities were exceptional. As soon as you walk in the front door you feel at home and relaxed. Attention to detail was spot on along with all the nice extras to make your stay so comfortable. Example: wood and starters already in the fireplace and at the outdoor fire pit, drinks/chocolates in the fridge, bathroom toiletries, etc. This cottage has a picturesque view of the Delaware River and is in close proximity to great restaurants, hiking, and historical sites. We attended Peace, Love, and Pumpkins at Bethel Woods which was only 20 minutes away. Loved The Cohecton Fire Station for drinks and apps. Plus, having our family dog along was the best. We will be back."