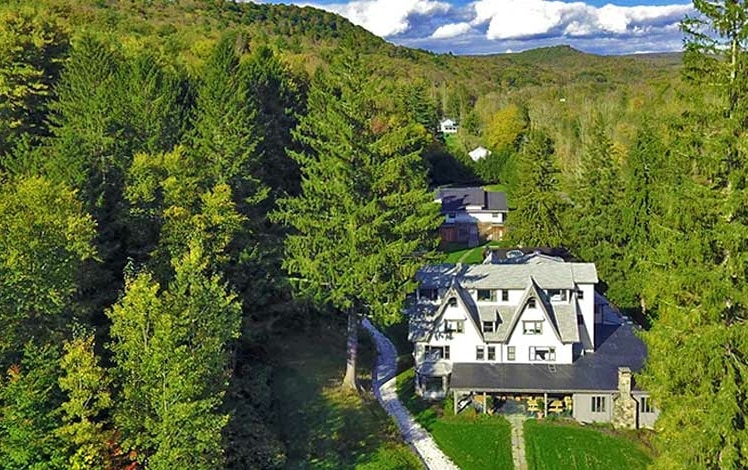 Callicoon Hills calls itself "The Friendly Resort for Nice People." They also call themselves "an informal vacation resort." It's got 65 guestrooms, a pool, and restaurant/bar.
It's a century-old resort nestled in a lovely Catskills mountain valley in the hamlet of Callicoon Center. This informal vacation resort welcomes those who wish to retreat to nature but still value personable hospitality and the comfort of thoughtful design.
Callicoon Hills is also a fabulous place for your wedding. NYC's Linda and Lucas were interviewed about it here, by New York Magazine. "Callicoon Hills fit our budget, fit everybody on-site, and the food is great. It's very scenic and it had good vibes."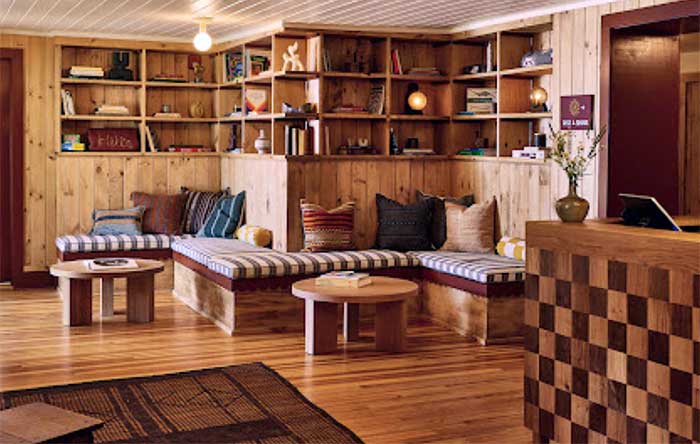 Boarding House, Pool House, and Ridge Rooms
Rooms are set on the 2nd, 3rd, and 4th floors of this historic 1900s boarding house. The ground floor of the Boarding House is home to the lobby as well as Rise & Shine Coffee and the Conover Club.
The Pool House, originally known as Terrace Hall when added to the property in the mid-1900s, sits behind the Boarding House and offers accommodations in close proximity to the pool. The Pool House contains double rooms and accessible rooms.
A short walk up a moderate hill from the Boarding House brings you to the three buildings which make up the Ridge Rooms. These rooms boast views out across the property and are nestled high amongst the trees.
Some rooms are dog-friendly.
Breakfast, Dinner, and Drinks
Start your day at their Rise & Shine Coffee Shop, where you can welcome the day with coffee, espresso drinks, and a seasonal selection of both hot and cold breakfast foods.
Have dinner and brunch at The Conover Club Thursday through Sunday, starting at 5 pm. Brunch is served 10 – 1 pm Saturday and Sunday. Choose from comfortable and relaxing seating either at the bar, in the dining room, or on the outdoor porch, when the weather allows.
Located on the banks of the Delaware River, Callicoon is a charming town steeped in history and rich in sightseeing opportunities. Callicoon is about a 15 minute drive from Callicoon Hills and offers eating and drinking options, shopping, a local farmers market, and the historic Callicoon Theater.
From its glory days as a retreat for fatigued Polish New Yorkers, through a winding tale of identities found and lost, we arrive in our present as the purest form of the informal vacation "resort." We look forward to sharing a glass of wine at the bar and a cannonball in the pool.