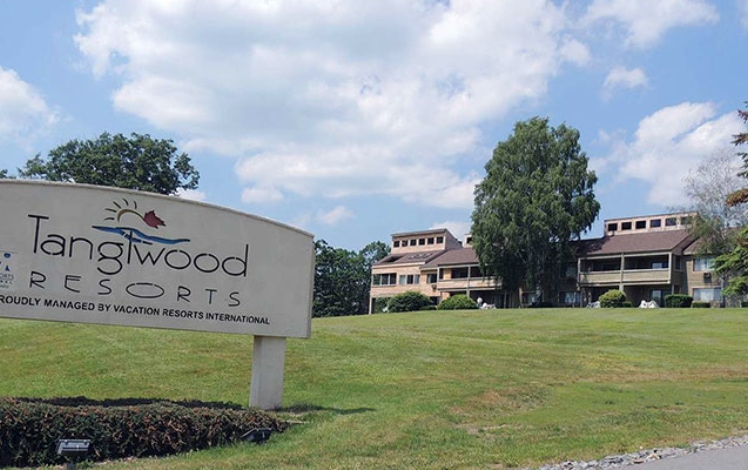 Tanglwood Resort Condos are kind of hard to describe. It's a strange amalgamation of four blocks of condos which is euphemistically called a "resort village" by the timeshare company that runs it. It's run down and kind of odd, really.
1 and 2-bedroom condos have full kitchens. Each kitchen consists of a stove, full-size refrigerator, dishwasher, microwave, coffee maker, pots and pans, utensils, plates, glasses, mugs, toaster, and more.
You'll find towels and linens in each condo, along with extras in a linen closet. After that, you can pony up $35 for new ones, or use the on-premises laundry yourself.
You can stay in the "Golf Course Resort" which is located about 8 miles down the road from the rest of the place, where you'll have access to the very nice (and otherwise private) Paupack Hills Golf Course.
As for activities at Tanglwood Resort Condos, you've basically got the Lake Wallenpaupack area, so go out and find something to do. Tanglwood does have an indoor and an outdoor pool. There is an Activities Center next to the outdoor pool with arcade games.
"This resort is not a member of the Better Business Bureau so that should tell you something. They were rude and threatening and didn't offer any help as I was lost and could not find the location. There are no signs or directions on how to get there. It was a horrendous trip. The key didn't work in the door and I ended up missing the wedding that I was supposed to attend, snd had to go five hours back home. I never have seen such atrocious customer service and all my life. They had poor customer service and were rude and threatening. I requested my money back and they said they had no openings until September. When I checked on my computer they had plenty of openings in August. They offered me one night free in September which would be hardly worth my while to drive 4 to 5 hours up there for one night. I had paid for two nights. There are a lot of nice places around there, I would recommend staying somewhere else."