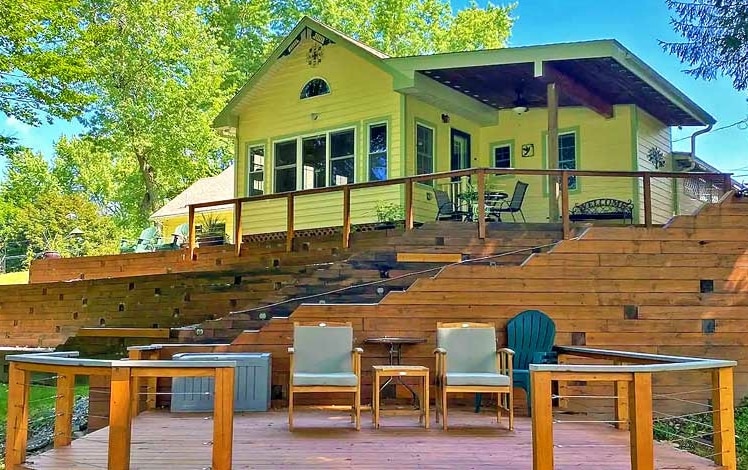 Mission Possible is a small studio house that hosts 2 guests with 1 bed and 1 bath. Nestled along one of the most pristine sections of the Upper Delaware River in Narrowsburg, this modernized guesthouse offers comfort and privacy in a luxuriously rustic setting.
With three large glass walls facing the river, you can see bald eagles soaring, songbirds flying, blue herons stealthily stalking fish, an occasional white egret or two fishing, and deer quietly drinking at the river's edge.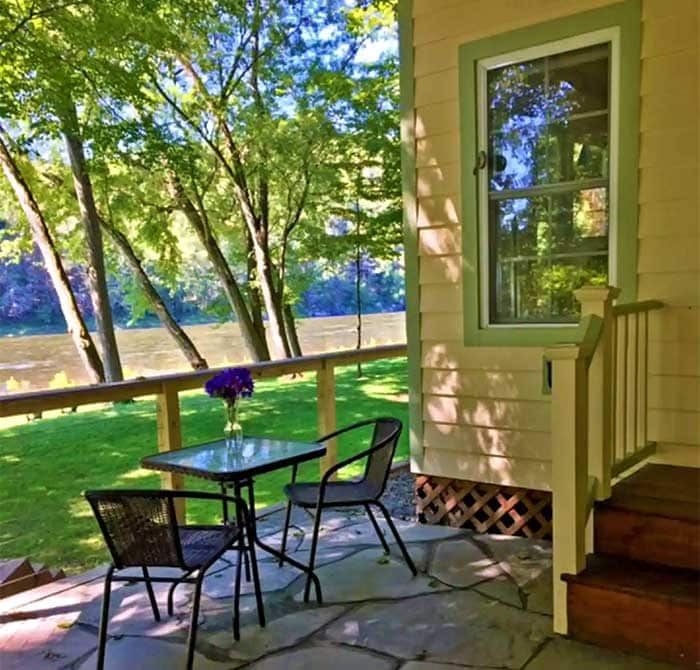 The custom-built queen bed guarantees a quiet, good night's sleep on the softest linens and finest pillows. And when you wake, sit up and stretch, you'll immediately notice the river flowing from your cozy bed. There's a tiny kitchenette and
You'll find a covered patio, a lounge chair area, a second-level deck, and riverfront access.
Kayaks, tubes, and canoes can be rented nearby if you wish to paddle or leisurely drift down the Delaware River.
If you prefer fishing, rods are provided, and you can fish on the property. There's a nearby bait and tackle where you can get a fishing license.
You can walk to Narrowsburg, and Bethel Woods is just a 10-minute drive away.
Here's the Mission Possible website.
"Tastefully decorated cozy guest studio with many thoughtful touches. The hosts made it easy to relax and enjoy a restful weekend along the river. We saw deer aplenty and eagles winging in the sky. The town was a nice walk and offered cute shops to poke around in as well as yummy food. My only wish would be able to return!