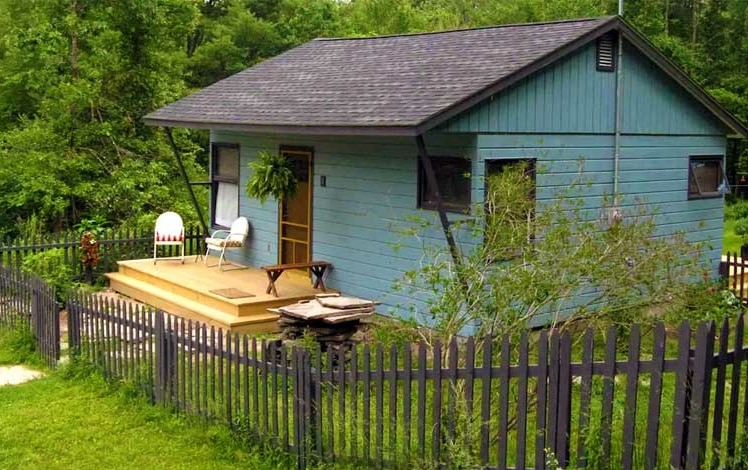 The legendary Luxton Lake/Ten Mile River region is the setting for the cutest little house in Narrowsburg. This historic cottage offers two acres of private water frontage to explore and relax. ⁠⁠Ideal for a couple, a small group of friends, or an artist looking for inspiration, this charming house is located two miles from Main Street.
There's room for 4 guests in 2 bedrooms with 3 beds and 1 bath.
Recently renovated, this cozy 2-bedroom cottage is furnished with one queen-size bed, bunk beds, a claw foot bathtub (no shower), a restored 1950s cooking stove, wood floors, and a ceiling fan. It is stocked with soft cotton linens, wool blankets, mid-century dishware, and classic games. Start your morning with coffee on the front deck, and wrap up the day with a barbeque on the back deck.
It's located two hours from the George Washington Bridge. Close to Bethel Woods Center for the Arts (15 miles), Callicoon (8 miles), and the Delaware River (2 miles).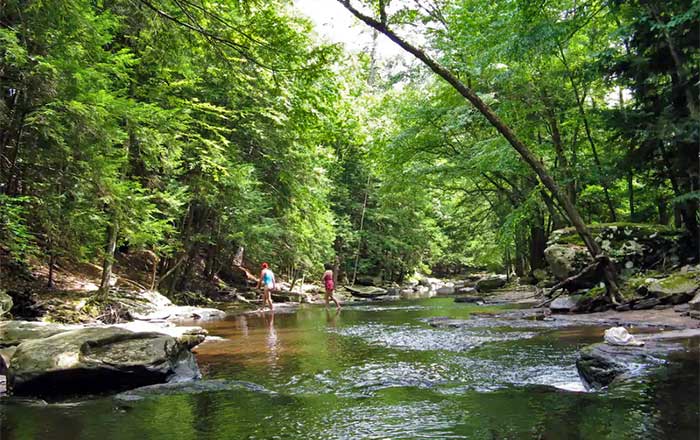 You can choose from five different outdoor fire pits. One is in the backyard behind the cabin for when you want to be close to home. Another is nestled in the woods next to the cabin, you'll be walking in the woods to get to it. Three others are located along the banks of this private Ten Mile River waterfront land, a beautiful 5-minute walk from the cabin. Cut firewood is stacked near all fire pits. It's recommended to bring fire starters, newspapers, and matches.
In addition to the house, feel free to enjoy the three-acre park across the road that bustles with wildlife and offers a swing set for the kids.
A short walk down a quiet country road leads you to a private 2-acre picnic spot where you can enjoy a campfire and take a dip in the water at the picturesque Ten Mile River Falls.
Several outdoor fire pits along the river make a great setting for roasting marshmallows and telling stories. Free firewood provided.
"Simply put, this is the best Airbnb experience ever. I did extended stays at the Cutest Little House in Narrowsburg, and Tina's other property, Grandma Gail's Cottage. Both are beautifully restored and decorated houses in the Luxton Lake community, a historic part of Narrowsburg. The houses are thoughtfully equipped so you have everything you need to be truly comfortable. Both have ample outdoor spaces (porches, decks) from which you can enjoy the peaceful surroundings. And the Ten Mile River is a short walk from the houses. As Tina's guest, you have access to a dedicated spot on the river for swimming, picnics, and campfires. The town of Narrowsburg is located on the Delaware River, just a bridge away from Pennsylvania."
Need more room? The same owner has Grandma Gail's cottage right next door.