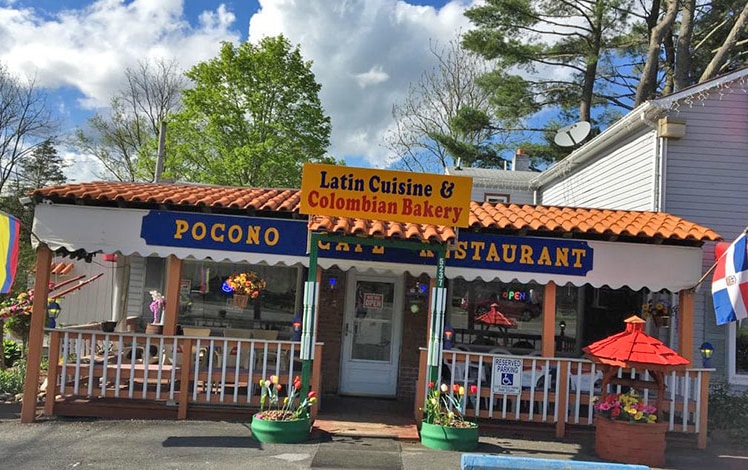 Pocono Cafe Columbian gives you pan fresco todas las mananas! This excellent combo cafe and bakery serves authentic Latin home-style cooking and Colombian baked goods. Bienvenido!
"Come and enjoy a full service Colombian menu and freshly baked bread in the Poconos. We serve a variety of traditional, homemade dishes for an authentic Latin restaurant experience."
A few years ago Teresa, and her husband Jose, purchased a home here in the Poconos. On her way to her new home she saw a vacant restaurant and thought "what a cozy homey special place… I'm going to open a restaurant there." Her family and friends argued "you don't know anything about running a restaurant." Where have we heard that before?
Empanadas, guava bread, oxtail, seafood, Colombian coffee. Bakery items are made fresh each morning.
Small, affordable, very good.
"It was absolutely a beautiful time! The pan de Bono, the mango, the music, the energy was all beautiful. I had the mangu de tres golpe, a Colombian chocolate, and so many baked goods. The owners and all the staff were incredible."

"I almost cried the food was so good. The half-roast chicken platter was perfect for 2 hungry people to split after a bracing winter hike to the Hornbeck Falls. Even though it was plenty of food, I couldn't resist getting some sweet plantains and flan, too. My belly is busting now, it was just all so succulent. Chicken was savory & tender, the rice & beans put all other plain old rice & beans to shame, and even the side salad, a place where most places would cut corners, was scrumptious. I wish I lived closer so I could eat here every day!"