NYC Street Grill is a few doors up the street from the Sherman Theater. Owners Ali and Sheeri Khaja do whatever it takes to turn a small storefront into a slice of the Big Apple. "We want to bring some flavor of New York to Stroudsburg," Sheeri said.
Halal sandwiches are available upon request. For those craving something a bit more exotic, there are shawarma sandwiches on pita, grilled tikka kabab, falafel and hummus.
14 platters are on the Middle Eastern side of the menu. Burgers, 10″ hoagies, soups, and chopped salads on the American side. They've got a Philly cheesesteak and a chicken parm sandwich. It's beautiful fresh food that's 100% Halal.
There's baklava and cheesecake for dessert, along with coffee and cappuccino and sodas. Grab 'n go or get a table in this comfy little Main Street spot.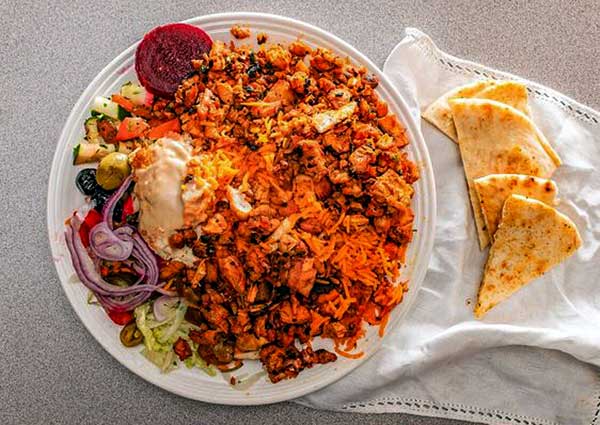 "Authentic Halal Food. Their food is fresh, delicious, and plentiful. They give a very generous serving and prices are reasonable. The staff is personable and friendly. The place is updated and clean and service is quick! There's enough room to eat in or sit outside. I highly recommend this place to anyone."

"This is a little gem! Friendly and clean. The food is sooooo tasty! Platters are plentiful and delicious. Authentic Halal. Can't say enough good things about this place. It's definitely worth the trip."