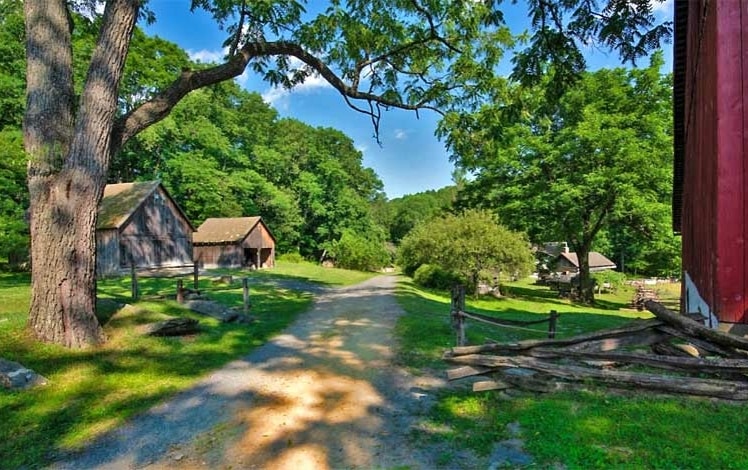 Quiet Valley Living Historical Farm
Quiet Valley Living Historical Farm is a non-profit, living history museum preserving 19th century Pennsylvania German agricultural heritage. Period dressed interpreters portray descendants of Johann Depper, re-enacting daily life on the farm.
Nestled in the Pocono Mountain on 114 acres of beautiful pastures, woodlands, and streams, Quiet Valley Living Historical Farm hosts all the farm animals typically found in the 1800s. Rabbits, chickens, ducks, geese, cows, pigs, goats, sheep, and Suffolk Punch draft horses live on the homestead. The buildings include an 1850s bank barn, the original farmhouse, a cabin, spring house, ice house, smokehouse, dry house, and smaller barns. Quiet Valley is listed on the National Register of Historic Places.
Check their website for the list of tons of classes and tours and events.
They are open from the third Saturday in June until Labor Day for historic farm tours. Farm animal frolic takes place on the last two weekends in May, Harvest Festival is Columbus Day Weekend, Spooky Days is the weekend before Halloween, and Old Time Christmas is held on the first two weekends in December.
Admission for the general public (in 2021) for a summer tour is $12 for adults and $6 for children ages 3-12 years old. Admission is paid at the gift shop, a log cabin building on the right inside the gate.