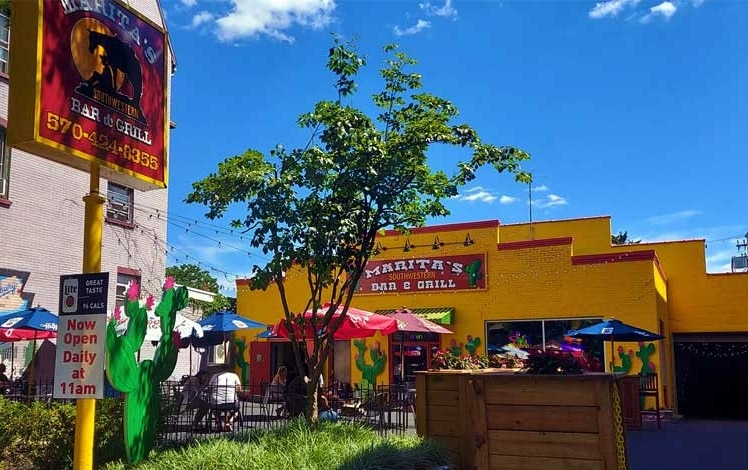 Marita's Southwestern Bar & Grill
Marita's Southwestern Bar & Grill is a Tex-Mex joint on Main Street in Stroudsburg. It's got a big outdoor seating area and a full bar.
The menu is what you'd expect from a typical Tex-Mex menu, with fajitas, quesadillas, tacos, and burritos. There's a big burger and cheesesteak menu, which is definitely not Mexican, but there you go. The food is not particularly good, and if you're from Philly, New York, Boston, or D.C., don't bother.
That said, service is friendly and there's the Main Street facing outdoor area. There are actually many better Mexican restaurants in the area. Try La Posada in Milford, Rogue Tacos in Stroudsburg, or Mi Casa in Mount Pocono.
Even people who dis the food say the margs are good, so…there's that.
"The salsa for the chips seemed like it was made from tomato sauce. Enchilada seemed rather bland. Taco tasted like Taco Bell's. I hope they improve as the location is good and the staff is nice."

"Sorry, but… this isn't Mexican food. To be clear, we all had different options, and they were quite bland. We had to send the fish tacos back, because the fish just… didn't smell right. The cilantro shrimp had no flavor, and the carne asada was nicely grilled, but had no seasoning other than salt."

"The place and location is beautiful. But…this was the worst food I have ever eaten. It's warmed up can food. Nothing was fresh. Everything we tried to order they didn't have. The chicken seems to be bjs chicken strips cut up. The rice was like a two day old warmed up in the microwave deal. And the chilli con carne was from a can 100%. The guacamole was awful, you have to make fresh guacamole at least! It truly is very beautiful but they have to change the person microwaving the food. They need a true chef who will make authentic Mexican food. So disappointing!"