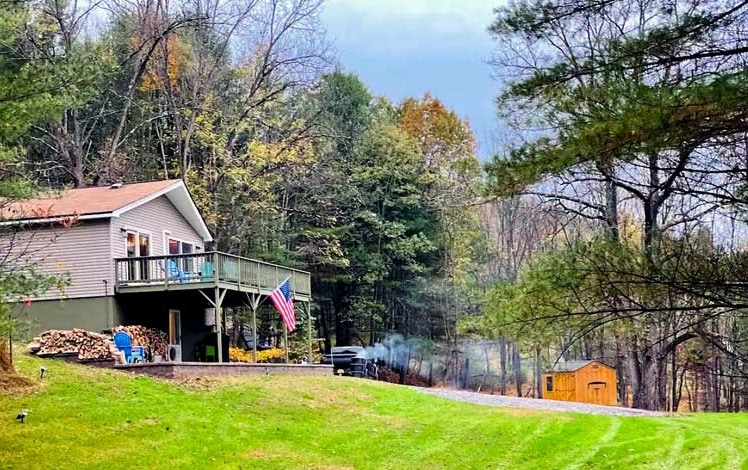 Pond and Perch is a two-bedroom house on a big property. There's room to walk the walnut forest, kayak in the pond, roam the 50+ acres, or relax on the deck. It's a beautiful home with 51 acres including a pond, two streams, and 1000+ feet of private frontage on the Delaware River.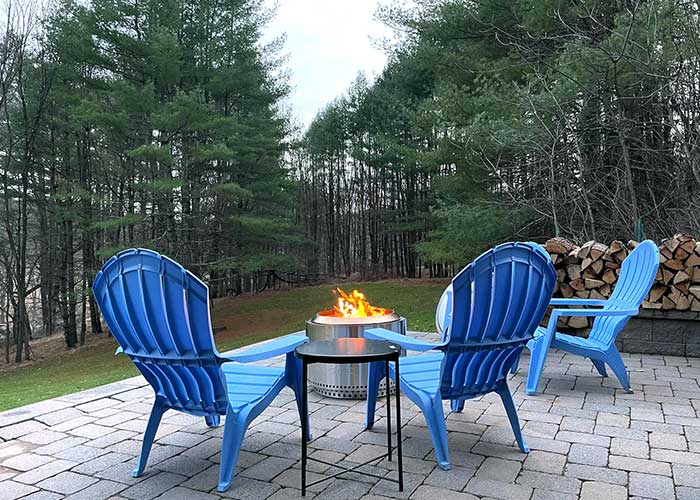 The open plan layout inside is welcoming, with a sprawling lawn, fire pit, and abundant wildlife outside. The open kitchen includes all the tools for great meals. Central heat and AC. WiFi. BBQ. Unwind and enjoy this family and pet-friendly river life.
The beds have percale linen and the bedrooms have room-darkening shades.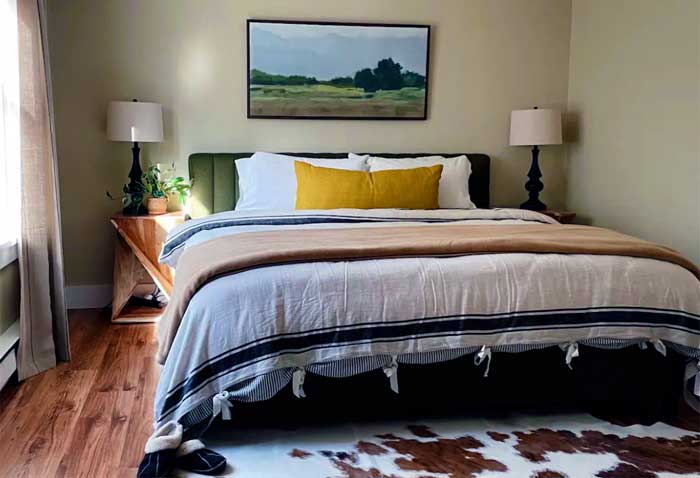 The kitchen is loaded with tools, equipment, and full service for 8. Dual oven, dishwasher, microwave, air fryer, full coffee station, and more make cooking a breeze.
With WiFi of 410 Mbps, you can make video calls and stream videos for your whole group. Your 50″ HDTV has Amazon Prime Video, Apple TV, Hulu, Netflix, and Roku. There's a Sonos Bluetooth sound system, and an Xbox 360.
Outside, you got bikes and a kayak to enjoy the huge property and the Delaware River. The Bethel Woods Center for the Arts is just 15 miles from here.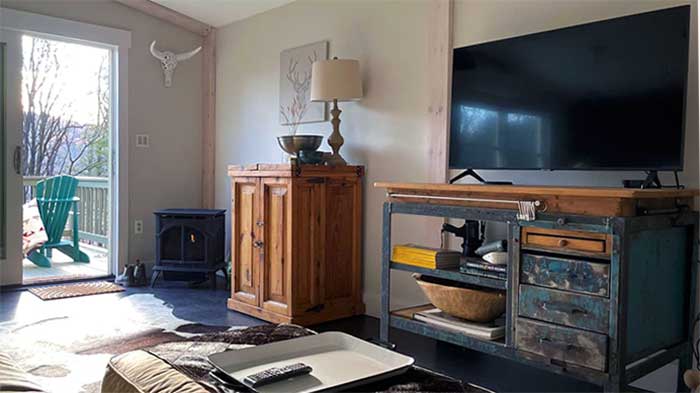 "Anna's house was immaculately clean while incredibly warm and welcoming. There are so many little details that make it very special for visiting dogs and people. We spent a lot of time indoors (it was rainy and we were lazy) and loved cooking in the kitchen. They have so many little things that you wouldn't think to pack and make it easier to prepare a great meal on the fly. One GREAT thing to note is that there are two living room areas with TVs. So if you go with friends and need to unwind or need to have your morning coffee without running into someone this is KEY! I definitely split up from the group for a little centering and Netflix binging when needed!

The property itself is exquisite. I had no idea what 51 acres looks like in real life, but I can confidently say it's GIGANTIC. We would go back in a heartbeat."