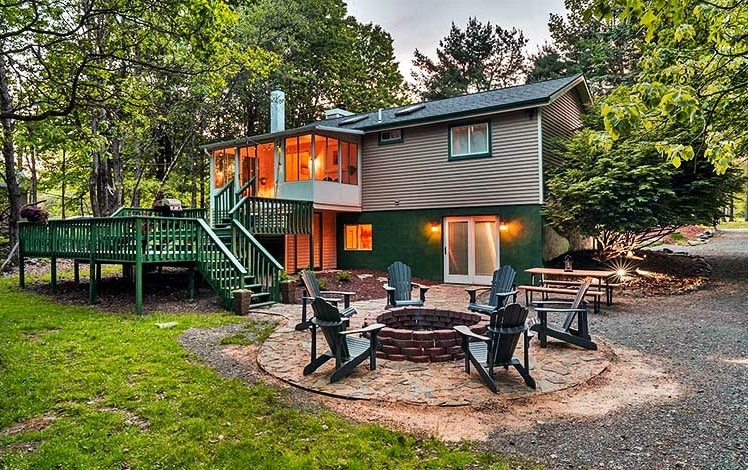 The Green Utopia hosts 6 guests in 3 bedrooms with 3 beds and 2 baths in the lovely and private Emerald Lakes community.
Step out onto the deck, where a cozy hammock awaits or gather around the large fire pit. They provide an extra hammock in the game room, perfect for setting up under the gentle sway of the trees. Enjoy breakfast at the picnic table.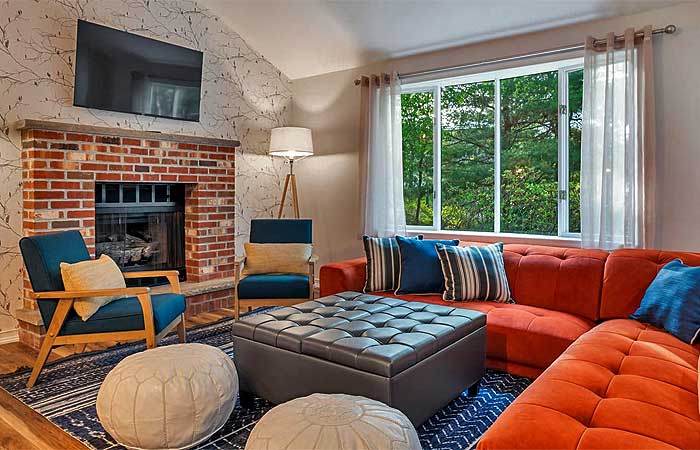 The sunroom is an oasis of relaxation with two large love chairs. Gaze out at the enchanting forest, where friendly deer occasionally pause to say hello. It's a true testament to the beauty of nature that surrounds you.
In the game room, you'll find a delightful gathering spot for both children and adults alike. Enjoy bonding over board games at the large table with six chairs, or unwind on the comfortable bed-convertible sofa while watching your favorite shows on the 50″ TV.
it offers an array of wonderful amenities provided by the Emerald Lakes Association. You'll have exclusive access to outdoor and indoor pools, a basketball court, tennis court, three serene lakes with boat ramps, and a welcoming community center. Please note that a nominal fee allows you to enjoy these fantastic facilities, payable directly at the community center.
"Stef's place was a tranquil respite away from NYC. It was perfect for our group of four. The bedroom and bathroom downstairs are amazing, and the personal access to the backyard was super convenient. The furniture was comfortable and stylish, and the kitchen had everything you need, including storage containers for leftovers. We saw deer, rabbits, and a skunk to our delight. The upstairs bathtub knobs were a bit difficult to maneuver for my elderly aunt and mother, but they both raved about the shower downstairs. The wifi was strong even in the backyard, which was great for when I had to get some work done. Stef was responsive, polite, and generous. We will absolutely be staying again soon!"