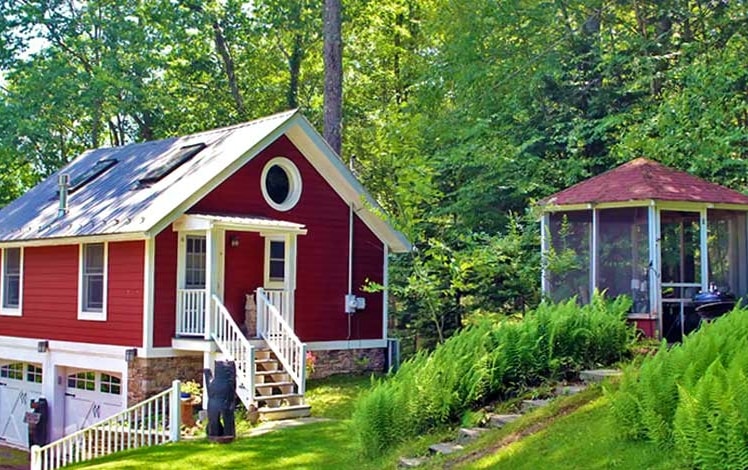 Adirondack Delaware River Cabin
The Adirondack Delaware River Cabin is completely renovated and modernized and overlooks Skinners Falls. This artistic rustic cabin is equipped with a full kitchen, full bathroom, washer/dryer, gas fireplace, balcony, and is fully furnished (all kitchen supplies included). The back deck overlooks the Delaware River.
The cabin accommodates 2 guests with 1 bed and 1 bath in a studio style.
You cannot beat the location of this rustic, modern cabin. Situated directly on the Delaware River overlooking Skinners Falls, it's the place to lose yourself in nature and beautiful views. You'll have an aerial view of the Skinners Falls Bridge from the property.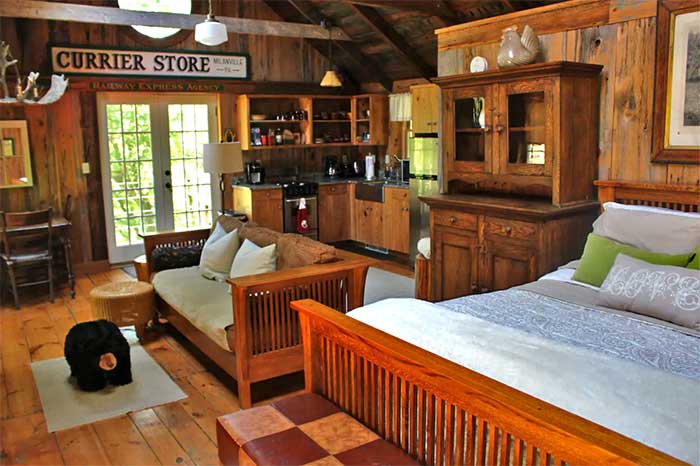 Please be advised that the cabin tends to be bright in the morning due to the multiple windows, french doors, and 2 skylights. If you prefer not to be woken up by the sun or by the views of the river and trees then this is not the cabin for you.
Note that there is a no pet and no children policy. In terms of cell phone reception, Verizon wireless seems to work the best. AT&T and T-Mobile customers will have little to no cell service.
You're literally one minute by car (or a 5 minutes walk) from Milanville General Store where you'll find a fresh, made-to-order breakfast, lunch ,and dinner. They've also got a full deli and a full suite of household, hygiene, outdoor, and camping supplies.
You're just 15 miles from Bethel Woods Center for the Arts where you can catch live concerts, food festivals, and more.
"Let's start with accuracy. The home and pictures are accurately described by the host, Johanna. It is a cozy cabin on the Delaware River. Includes a lovely balcony to take in the views and sounds of the area. Totally beautiful! Wonderfully peaceful! We enjoyed the enormous amount of natural light due to the multitude of windows and 2 skylights. The home is well equipped and clear directions are provided by the host. Some highlights of our weekend trip were starry nights (without light pollution), eagle sightings, privacy, and a comfy place to hang out. We look forward to returning for another getaway from city life and would recommend highly to other couples, friends, or singles traveling solo."