This lovely 1880s Forest Cabin is a historic cabin in the forest with a private lake that's a few mins away from the beautiful town of Milford. There's room for 6 guests in 3 bedrooms with 3 beds and 1 bath.
You can either pet the animals, go boating in the private lake, enjoy the serenity of nature, or get out and explore. You can, ski at Shawnee, go white water rafting on the Delaware River, or horseback ride in the state park. This house is a great pick for the nature lover.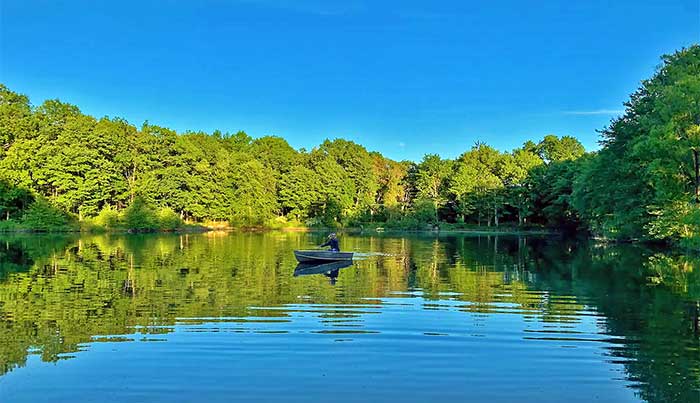 There are two fire pits, one is beside the cottage, and one is beside the lake. Enjoy peaceful nights with stars all over the sky. You'll have access to three paddle boats and one kayak. Enjoy fishing and boating in the pond. The water is clean and beautiful.
Two horses, two ponies, 3 alpacas, 2 cows, 8 goats, and 2 pigs live on the property. They are very friendly. If you want to feed them, your host will bring you some grain during your stay.
The cabin is usually fully booked. Make your reservation well ahead of time.
"Such a cozy lovely cabin. And it was very clean! Extra supplies are provided like cookware, seasonings, coffee/creamer, shampoo, liquid soaps, extra towels, extra pillows and blankets, and extra doggie beds. The absolute BEST! It was everything we had hoped for. Our dogs loved it out here, the animals were so amazing and friendly, we even found a local coffee shop we deemed our favorite around here. The whole experience felt like a home away from home. Would love to come back for another trip. This spot is EASILY my top pick for a relaxing nature getaway."