Skytop Lodge offers pure enchantment at the end of a long and winding approach. Vacationers have found picture-perfect elegance, romance, and family fun at this grand 124-room mountain lodge and its storybook cottages for 90 years.
Winner: Historic Hotels of America® Annual Awards of Excellence, Best Historic Hotel: Skytop Lodge. Named in 2023 as one of America's Best All-Inclusive Resorts by Travel + Leisure. In 2022, Skytop earned its 6th 4-Diamond AAA Award.
The placement of Skytop Lodge at the base of West Mountain is perhaps the best indication that this grand resort has always been inextricably linked to its natural surroundings: 30 miles of hiking trails weave through the 5500-acre estate.
In the summer of 2023 Skytop will be introducing pickleball, basketball, and tennis courts, and boating on Skytop Lake will be INCLUDED with all reservations.
Developers of the estate cultivated the aesthetic of the natural beauty of mountain lakes, streams, and cascading waterfalls when they hired the Olmsted Brothers to site the main building and to design Skytop's gardens.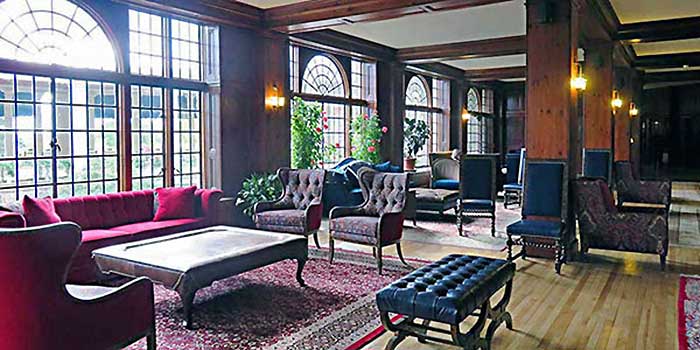 The Dutch Colonial-style stone manor house is filled with soaring ceilings, fieldstone fireplaces, and period furnishings that evoke a bygone era. Outside, the grounds of forest, lake, waterfalls, streams, and fresh mountain air lure your little adventurers to get out and explore woodland hiking trails and discover the beauty of the magnificent 3-story Indian Ladder Falls.
Skytop's food options range from classic American cuisine at the semi-formal Windsor Dining Room to light bites at the casual Tea Room, a throwback to a corner drugstore serving egg creams and other treats.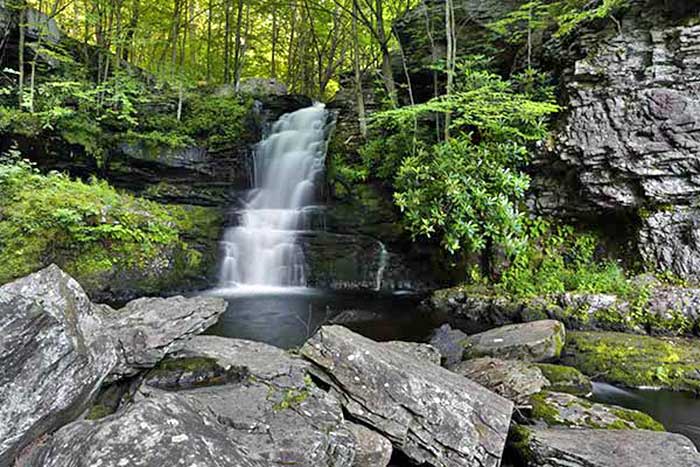 Skytop Lodge is ready to accommodate all sorts of travelers, from couples looking for romantic retreats in The Lodge's traditional rooms to families seeking space in the interconnecting Streamside Cottages. The Skytop Lodge's activities are equally varied, with options like lawn bowling, estate hayrides, and guided bike rides. For more relaxing options, visitors can book massages and various treatments at The Nest, a boutique spa within the main building. In contrast, an on-site adventure center outfits guests for everything from rock climbing to snow skiing. Skytop Lodge's 18-hole championship golf course boasts a mountain-style layout that snakes through the region's rolling hills.
Check out their list of packages for couple and families here.

In summer, there's a drop-off kids' camp on the grounds, as well as swimming and an inflatable trampoline park on the lake; in winter, there's skiing, snowshoeing, cross-country skiing, and ice-skating.

Indoor and Outdoor Pools

Add four tennis courts and an indoor and outdoor pool, and you may not have time to take advantage of the zip line course, paintball, or rock climbing.

A cottage by the lake.

"I was thinking of fish. And of a time in the not-so-distant future when my sons, equipped with patience by then, will be able to share one of life's greatest joys with me."– Patricia Leigh Brown, 1995, The New York Times.