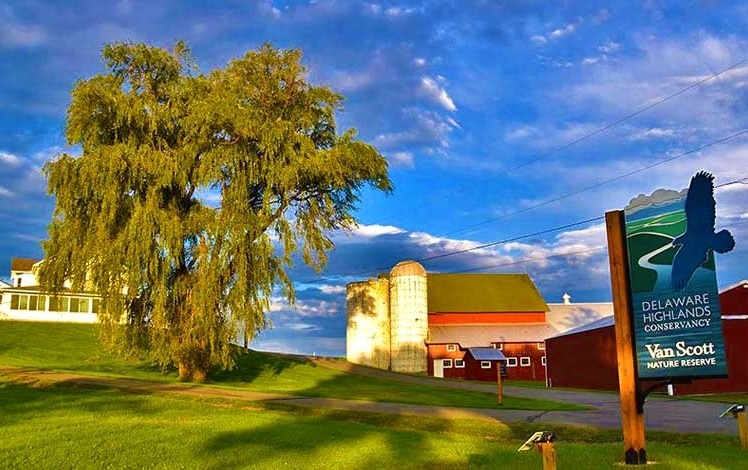 Van Scott Nature Reserve has been opened as of October 2021 by The Delaware Highlands Conservancy. The 144-acres in Beach Lake are open to the public. It features more than three miles of publicly accessible walking trails through the woods and wildflower meadows, along with two ponds, wetlands, and a tributary to Beach Lake Creek.
Follow the Butterfly Trail up to the top of the hill for beautiful views of the sunrise and the surrounding mountains and farmland. The reserve features acres of walking trails, all with varying landscapes from the forest to wildflower meadows to wetlands.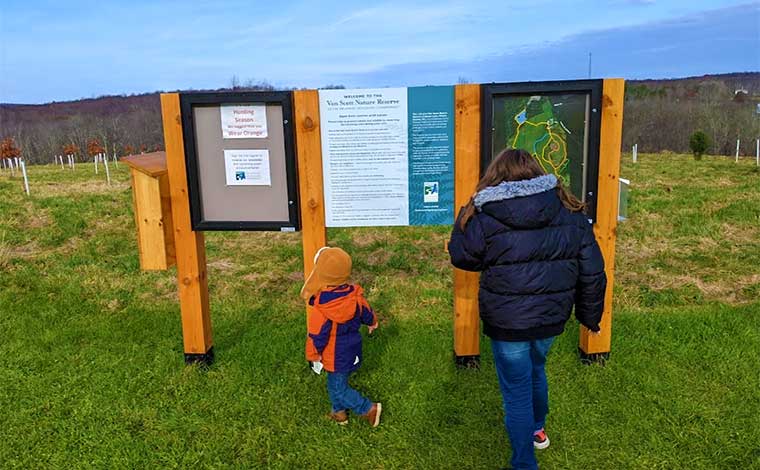 On a clear day, the property features scenic views to the southern Catskill Mountains in New York State and to High Point State Park in New Jersey.
The Reserve is home to the Conservancy's year-round quality educational programming including hikes, nature walks, forestry and land management workshops, demonstration projects, and the popular winter Eagle Watch. Over time, other farm structures will be adapted for new and enhanced educational programs.
This special property is the Conservancy's first nature reserve and headquarters. A former dairy farm, the property incorporates diverse habitats with abundant opportunities for conservation, environmental education, and outdoor recreation on self-guided trails, including large open meadows, forested areas, two ponds, a tributary to Beach Lake Creek, and wetlands. A well-maintained residence will become a vibrant headquarters for Conservancy staff. Other farm structures will be adapted over time for new and enhanced programs for school children as well as informal educational programming.
The Reserve is open from sunrise until sunset every day. Groups of 10 or more are asked to register in advance with the Conservancy.
Here's the list of rules. Note: To help protect sensitive wildlife habitat, dogs are not allowed on the Reserve. Use the website link for the trail map!