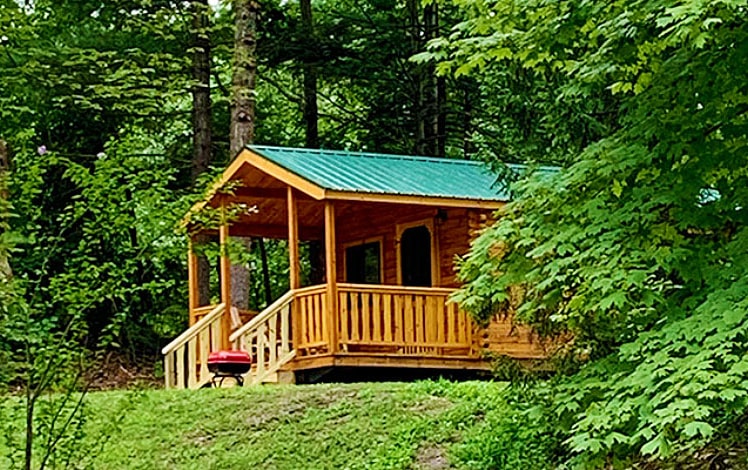 River Beach Campsites on the Delaware River offers 160 sites built on 18 acres of beautiful wooded grounds. It's on the Delaware River and just 3 miles from the town of Milford. The campground is set up for both tents and recreational vehicles. Choose from riverside, creekside, and wooded sites. A lot of the campers are here to go river tripping with campground owners Kittatinny Canoes.
There are also river cabins. Kittatinny Cabins sleep 6 and are heated and air-conditioned, with cable TV, a full bath, and mini-kitchens.
River Beach is a little bit disorganized, very friendly, kind of noisy, and lots of fun.
Need to Know: 1) This is a crowded and fairly noisy campground located hard by a very busy road. It's about kayaking and river trips and fun. Not for you if you're looking for a super-quiet peaceful time.

2) Bring your own camping gear, no rentals available.

3) RV sites are close to one another. "Prime Sites" are on the river on fill up fast, so BOOK EARLY. Regular tent sites are $11/night, and prime sites are only $18. In order to get a prime site, you have to book an activity. Available activities are ziplining, river trips, and paintball, so it's not too much of a hardship, really.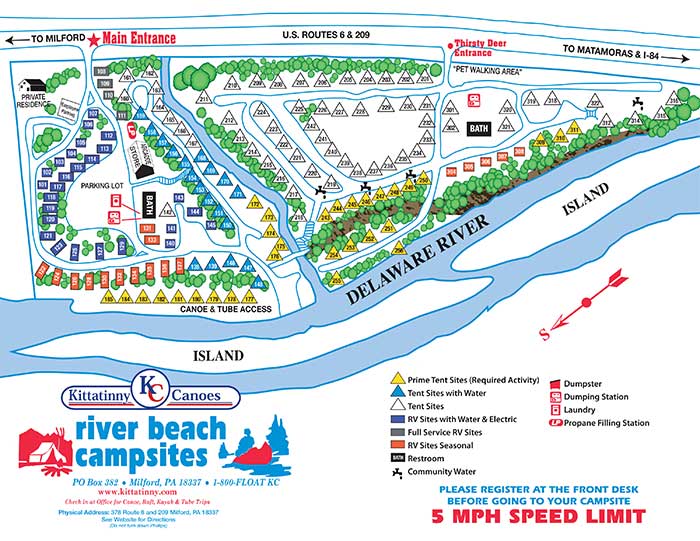 Bring your camping gear including a tent, sleeping bags, and chairs. River Beach does not rent camping equipment. What they do have: 2 full-service bathhouses, a laundromat, a camp store where free WiFi is available on the lounging porch. The camp store carries a variety of basic camping supplies, clothing, and river trip gear. This camp store also offers retired fleet kayaks and canoes for sale.
This campground is both beautiful and amazingly inexpensive. Bonus: it's owned by the friendly folks at Kittatinny Canoes.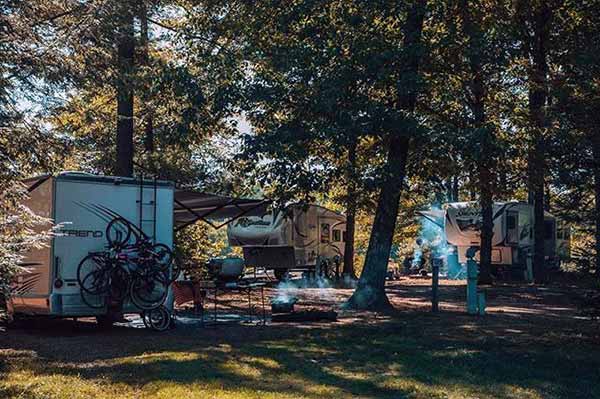 Amenities for Tent Campers
Campsites will accommodate 4 to 12 people per site. You can choose between prime tent sites (riverfront and creekside) or a wooded area set back from the river. All campsites have a fire ring and picnic table.
Amenities for RV Campers
Pull-through or back-in sites can be rented nightly or for an extended stay. Seasonal sites are can be rented, depending on availability. RV campsites are furnished with a fire ring, picnic table, water, electric, and digital cable. Full-service RV sites are limited.
Have a look at their Kittatinny Campgrounds in Barryville, too.