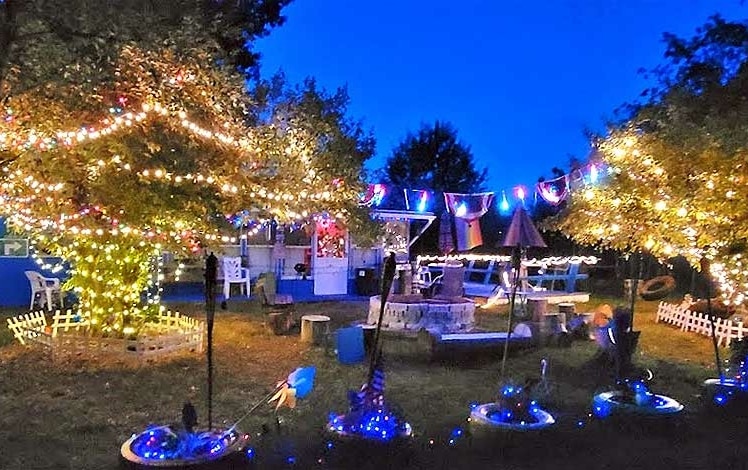 Camp Out Poconos is the newest LGBT+ adult, membership-only campground to debut in the Poconos. Camp Out Poconos has got tent and RV sites, cabins that sleep 2-4, and cottages that sleep 2-5. They also offer seasonal sites.
It's a place to relax, rejuvenate, and reconnect. It's located 75 miles out of Philly and NYC, and its a great getaway for the entire Northeast. It features a pool, jacuzzi, sports and games, dance parties, piano, and a video lounge, drag performances, and live shows.
"Somewhere way up high, Camp Out Poconos is exactly that somewhere over the rainbow that you've heard of. Cool and crisp, the spring air was a perfect time to sip some hot coffee by the campfire waiting for the night's festivities. Book now to get your spot in the place where troubles melt like lemon drops."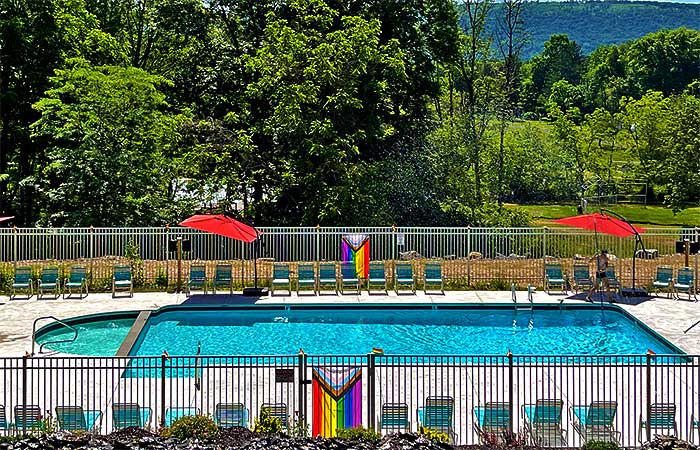 Live entertainment takes place in The Den, the Disco, and at the poolside. You'll find drag artists, the Piano Lounge, live bands, and theme weekends.
There's a saltwater pool and a jacuzzi. Cantilever umbrellas, patio seating, and breathtaking views await. Clothing is optional (at the pool), so you can forget about tan lines.
The Den is a spot that flips from a live Piano Lounge to a swanky Video Lounge. You're in reach of everything the Poconos has to offer, from outdoor adventures (hiking, horseback, ATV) to shopping, dining, bars, the casino, and more.
You're just 15 minutes from Trackside Grill & Bar where you can get a great hamburger. A nearby favorite recommended by the staff is Rogue Tacos – we agree!
"A big thank you to the staff. We came up for a short tour and visit, only to end up staying the night. Steve set us up with a cabin and it was awesome. Great location. The pool and hot tub was perfect for a relaxing evening. We plan on coming back soon."