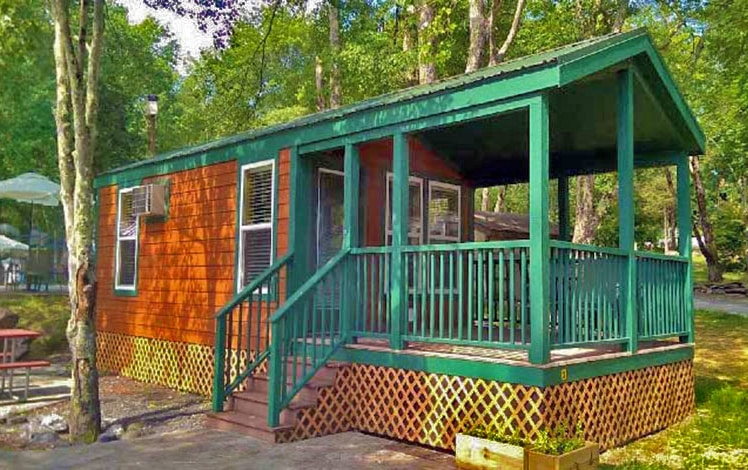 Delaware Water Gap KOA offers grassy or wooded-level pull-through sites for tents and RVs. Patio sites have upscale seating and one-of-a-kind campfire elements are available. There are cabins in a range of styles from basic to quite luxurious.

They've got an EV Charger, but if using an electric vehicle as a 2nd vehicle the KOA will tell you to rent a separate site for charging. They are worried about their capacity at each site's pole. Give 'em a call to find out.
The great national treasure that is the Delaware Water Gap National Recreation Area is located less than 5 miles away, making this KOA a perfect base camp for canoeists, kayakers, rafters, and hikers. Bushkill Falls is just a 15-minute drive by car from the campground.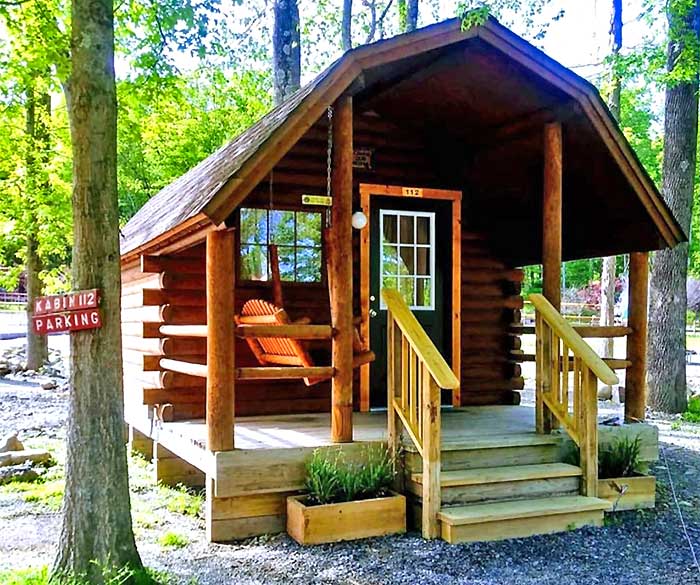 Open all year and offers easy access to the winter wonderland at Shawnee Mountain Ski Area, just half a mile down the road. Be aware, though – cable and water are shut off from mid-October through mid-April, so be ready to rough it.
Groups are welcome and can use the campground's meeting pavilion. Propane and firewood are available, as well as bicycle rentals and mini-golf.
"Last week my husband and I rented a rustic cabin. It was perfect for us as it was away from all the other cabins. The cabin was immaculately clean. Had a full-size bed with a bunk bed. A long shelf under the window and a bench by the bedside. The matting for the bed we SO COMFORTABLE as we slept solidly thru the night. We had a nice porch with a swing, picnic table, charcoal grill & fire pit. We were greeted by the lovely ladies at the check-in at the store and then escorted promptly to our site. Their store is amazing!! Filled with everything that you need. They even deliver the firewood. Even the bathrooms were kept clean and dry (as we frequently used them since we had no bathroom in our cabin). This place is definitely a "Go-To". Open all year round. We will look to rent a cabin for the upcoming foliage season as well as next summer since the surrounding area has SO MANY things to do!!!"