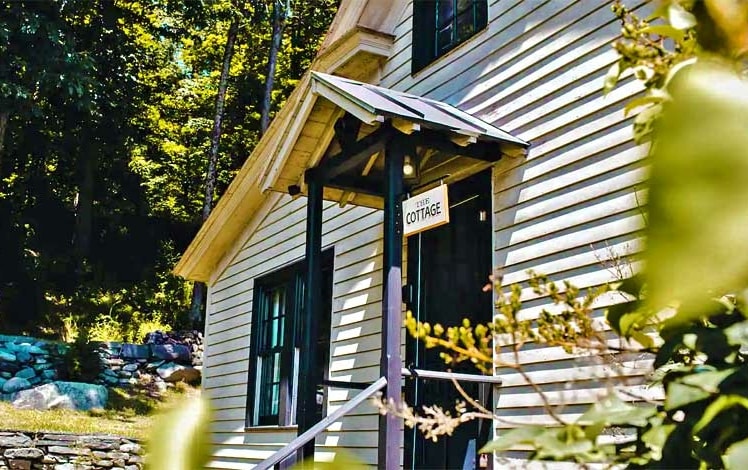 The Starling at Pond Eddy is a country retreat along the Delaware River, comprised of a historic Delaware and Hudson Canal House and a caretaker's cottage nestled on almost 8 acres of woods. The Cottage hosts up to 6 guests in 2 bedrooms with 3 beds and 1 bath.
Although The Starling at Pond Eddy retains much of its late 1800s historic charm, the building has been upgraded with modern amenities like central air conditioning and heat.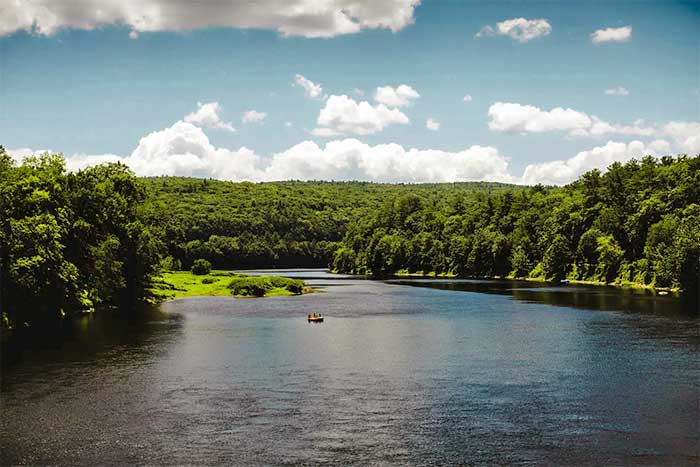 The property's Cottage dates back even further to c. 1860, with the porch added around 1880. This is just one of many mid-19th-century canal-side houses built in Pond Eddy. The Cottage is a pet-friendly rental.
With its wooded hillside at its back and views of the Delaware River off the front, The Starling at Pond Eddy retains much of its original charm, a rarity in the river valley, due to the fact that it sat unaltered for almost 40 years until an antique dealer purchased it and started detailed renovations.
Need groceries? Click on Barryville on the Essentials tab and shop at Barryville General, a fabulous little deli/market just 10 minutes (really) away. You can also click on Glen Spey for Pete's Country Store with wine, beer, a deli, and gas station, just 3 miles away.
The Starling at Pond Eddy has three main rental options: The Apartment and Boardinghouse Rooms in the historic Riverhouse or The Cottage, a free-standing building behind the main canal house. Arrangements can also be made to rent out the entire property for private events or retreats.
"This place is pretty amazing! I've stayed at Airbnbs all over and there is nothing out there quite like this place. We had a large group with a few kids so we rented out the entire property. All the rooms were very thought out and so beautiful. The kitchens were all stocked and grills were also available. The bathrooms were the best part and I took full advantage of the clawfoot tub. The property also had a ton of games to keep the kids entertained. Summer is a great time of the year to come here since there's rafting right across the street! Will definitely be staying here again!"