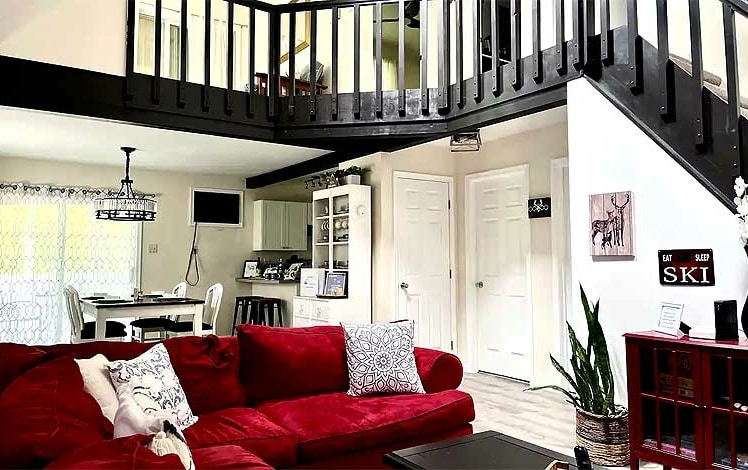 The Pocono Loft House is a warm & cozy A-frame home that hosts 8 guests in 5 bedrooms with 6 beds and 2 baths in Bushkill's amenity-filled Saw Creek Estates.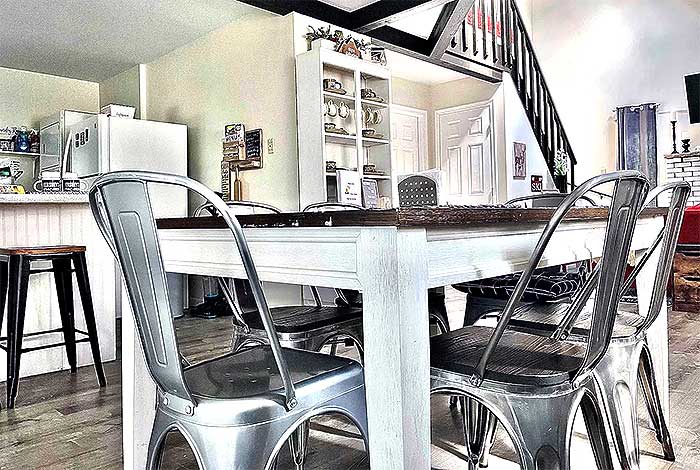 There's a 3-season room where you can enjoy your morning coffee or tea, play family games, or end your day with a good book while watching the stunning view of the ski lift and slope right next door.
The Lofthouse features a fully equipped kitchen, a washer & dryer, 2 wall unit ACs, a relaxing upstairs loft area and a coffee bistro set for a comfy workstation or playing a good card game.
Enjoy the outdoor pools and sip a cold refreshing drink at the poolside tiki bar. Walk a few steps in the winter season to hop on the amazing ski lift for a fun-filled ski adventure, then down the slopes back to the Lofthouse for lunch, enjoying your hot cup of cocoa, or cook on the new propane BBQ grill on the main level outdoor deck. Stream your favorite music using high-speed wireless internet.
Located at the top of the driveway is a ChargePoint Level 2 EV charger for electric vehicles. Free for guests, bring an adapter for your Tesla.
"The perfect Airbnb in the Poconos! We are long time Airbnb'ers and this house is right up there with the best. Fully stocked with lots of extras in the kitchen (complimentary wine, chocolate, coffee, s'mores, condiments, etc). Adorable touches everywhere, the beds and pillows are super comfortable, lots of towels and blankets, and the communication and check in was great. The house sits on a beautiful property. Book this house, you will be so glad you did!