Skytop Cottage #44 is a 1938 cottage in keeping with the graciousness of Skytop Lodge. It's perfect when you're attending a wedding, family reunion, or golf trip at Skytop Lodge.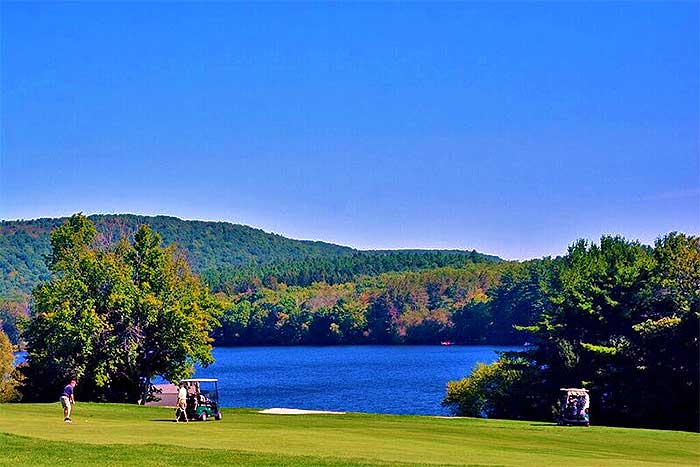 It's got 3+ bedrooms and 2 full baths and hosts up to 8 guests. There's a den, dining room, fireplace, and an attic hideaway for the kids to escape. Sip a cup of coffee in the fireplace room overlooking the beautiful wildflower meadow. Want to hike, golf, kayak on the lake, rock climb, bike, or relax? Skytop is a mere 100 yards away. It's the perfect playground for both kids and adults to enjoy.
Hop on over to the Skytop Lodge Golf Club for a perfect afternoon. Stop into one of their restaurants, too.
"Cottage 44 was beautiful. They have everything you need to enjoy your time in the Pocono Mountains. We were able to use all of the Skytop facilities as the Lodge was not busy. The walk is close to everything. Get the weekly schedule and enjoy the hiking, fishing, kayaking, and swimming. They thought of everything when they set this home up. You can do Instacart for food delivery if you are cooking. Host Devin was a delight to work with."