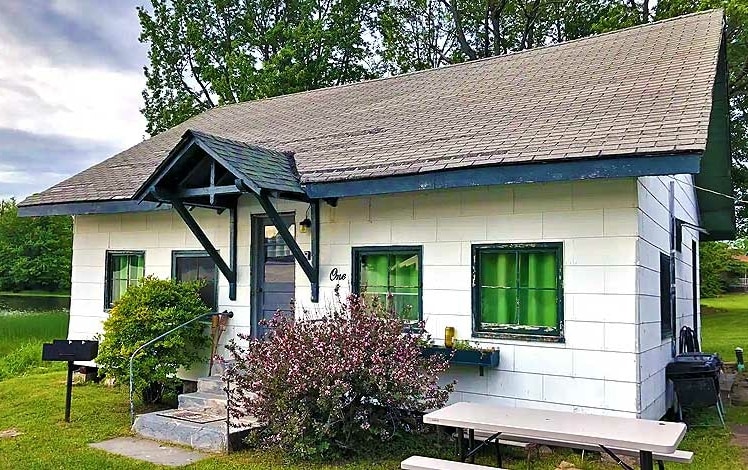 This Lakefront Rustic Cabin hosts 5 guests in 3 bedrooms with 3 beds and 1 bath. it sits on a private lake in an old-time country setting. This tiny cabin sits only yards away from the private 135-acre Beach Lake. Bring Fido!
The cabin is located on the premises of the old Tuscarora Lodge, a vintage dirty-dancing-style cabin resort from the 1930s.
With 3 bedrooms, a dining area, and a full kitchen with a propane stove, this cabin is ideal for feeling relaxed.
The private lake is great for swimming, boating (no gas motors), and playing on the beach. It's a clean lake, not murky/slimy, and warm and peaceful to float around and enjoy the sunshine and occasional bald eagle sighting.
Bring your own bed linens. As we've said, it's verrrry rustic. On the bright side, your host is a feller named Ethan who lives in tiny Beach lake is very quick to respond to your needs.
Tip: Book well in advance to reserve your spot during the Bethel Woods Music Festival each August.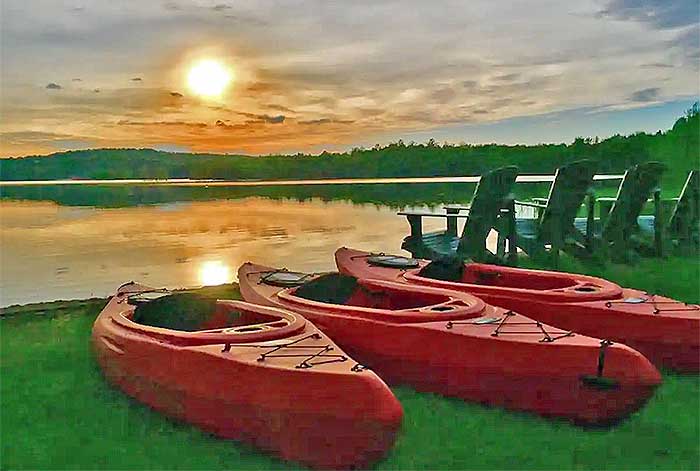 "Brought the whole family and rented 2 cabins so my review is on both rentals: The cabins could definitely use some updates, things are a little old or not in the best condition But overall for the price, it's a great place to stay! Kayaks and pedal boats are free for use with life jackets and there's a basketball hoop and ping pong table for everyone's use. Multiple fire pits on the property and plenty of Adirondack chairs and picnic tables. Ethan is very responsive and when the coffee machine and microwave were having issues in our cabin they were replaced within an hour! Our dog was able to join us and he loved laying out in the yard and sand with us and meeting the other pups on the property. Everyone there was very nice and welcoming."

"Ethan's cabins are not the fanciest but I always feel home and cozy. I love the summer camp feel and the lake is always magnificent and quiet. I can see beautiful sunset every night and I love coming back every summer."