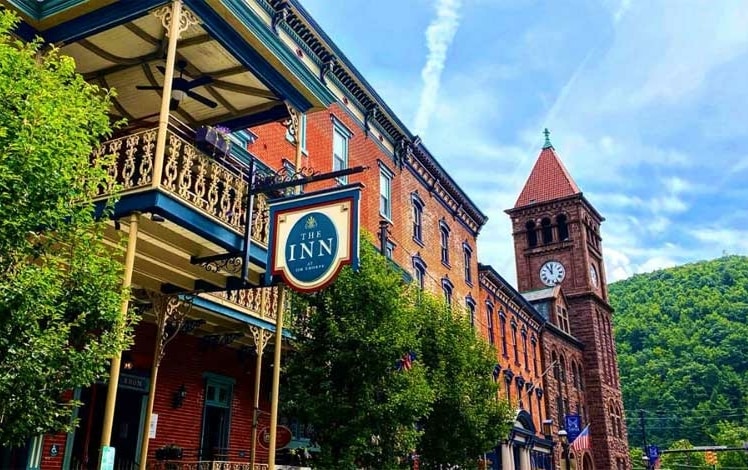 The Inn at Jim Thorpe dates from 1849 and is one of the town's landmark buildings. It located in the heart of downtown Jim Thorpe's National Register Historic District, just blocks from the Mauch Chunk Opera House.
The property is interesting in that the accommodations are located in 3 historic buildings, and so the rooms vary in size, shape, and location. The traditional lodgings all include free WiFi and air-conditioning. Upgraded rooms and suites add whirlpool tubs, period furniture, and fireplaces.
The Inn at Jim Thorpe welcomes groups for corporate meetings and family reunions in two meeting rooms: The Broadway Underground and the Wahnetah Room.
There is a restaurant and a bar on the premises, and a breakfast voucher is provided. Other amenities include a spa, an exercise room, and an ornate balcony with seating. Special packages and offers can be viewed here. Check out "Raft & Stay", "Bike & Stay", holiday packages, and last-minute specials.
There are two EV Chargers: Level 2 J1772 chargers, hotel guests only, must be reserved. $10 for an unlimited charge while you "own" the spot.
"From the moment we walked into the lobby and were greeted by two employees at the desk we knew it was going to be an incredible experience. Our room was wonderful, we had a suite with a soaking tub and fireplace. The hotel and our room seemed sanitized and safe. All the meals we ordered from the restaurant were delicious and the portions were very generous and priced right. The three-night getaway was just perfect and the employees are what made the difference. I have to mention that one night we went down to get a cocktail and the bar had closed but the last employee was just cleaning up and ready to leave said, "I'll make you guys a drink what would you like". He went down and made me an incredible Martini and they even use full-size glasses. I would recommend the Inn to anybody."