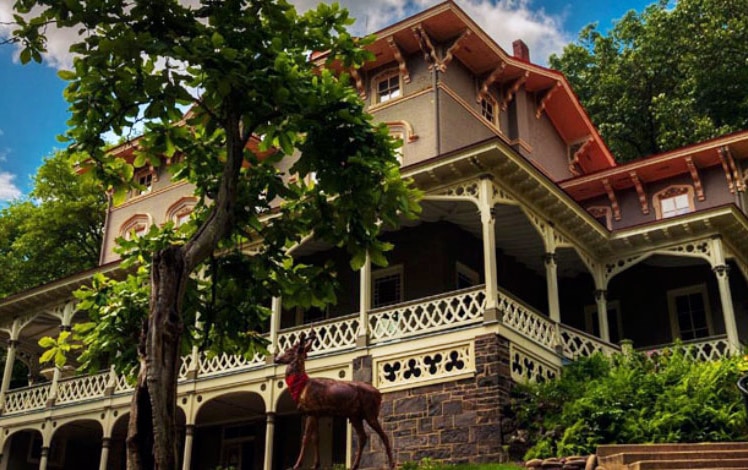 Asa Packer Mansion Museum
The Asa Packer Mansion was built in 1860 and sits high above the town of Jim Thorpe. The mansion offers visitors a look at one of the best-preserved examples of Italianate architecture in the United States, and a unique view of the 19th-century opulence that accompanied the industrial revolution. The mansion is not a restoration; the original interior is intact.
The Mansion will be open weekends (Saturdays and Sundays) in April and May from 11:00 am. to 4:00 pm. The Mansion is open seven days a week from Memorial Day to October 31.
The mansion was the home of Asa Packer (1805-1879), a prominent Pennsylvania industrialist and philanthropist who began his career making canal boats. Asa Packer came to town as an apprentice boatbuilder. He died 57 years later as a millionaire, after founding boatyards, construction and mining companies, the Lehigh Valley Railroad, and Lehigh University.
The three-story building has a center hall plan. At each end of the house is a one-room extension with a bowed end. Several stylistic details ornament mark the exterior, including an Italianate roof and elaborate wooden brackets, Gothic window arches, and Gothic gingerbread trefoil motifs trimming the verandah. Interior detailing and furnishings reflect the wealth and influence of the owners.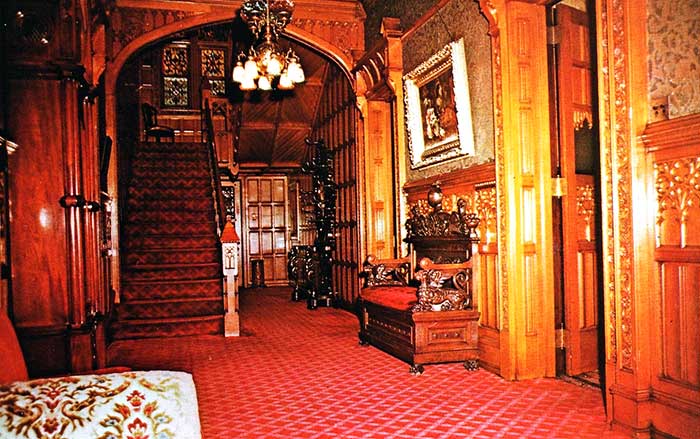 The Main Hallway features fine woodcarvings by European artisans. The Gothic motif is used throughout and is particularly dramatic in the woodcarvings in the Main Hall and stairs and the bracketed ceiling and stained-glass windows in the dining room. The Asa Packer Mansion has been preserved, complete with original furnishings, and is open to the public. Tour info can be found here.
You can visit, but you can't stay in a museum overnight. You can, however, stay at the mansion Asa built for that became the home of his son, Harry. It's right next door.
The mansion is directly behind the Carbon County Courthouse in Jim Thorpe. There is no on-site parking at the mansion, but you can park at the Lehigh Gorge Scenic Railway parking lot off Rt. 209 and take a 3-minute walk up the hill.