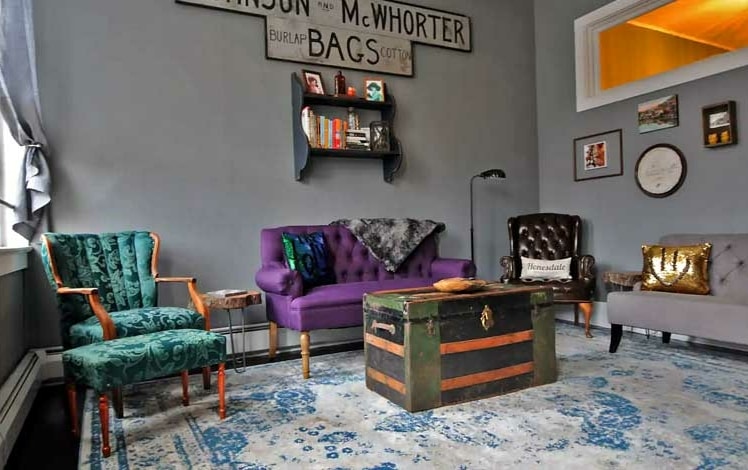 The Honesdale Loft is nestled in the heart of Honesdale Pennsylvania. The Loft is the perfect location for your next getaway. Breweries, coffee houses, shops, and venues are all within a few blocks. It's a one-of-a-kind space, a remodeled 1800s building updated with modern and comfortable style.
The Loft was voted Best Local Lodging/Best Hotel by the River Reporter in their Readers' Choice- 2017-2020.
The Loft accommodates 6 guests with 3 bedrooms, 5 beds, and 1 bath. They allow pups under 40 pounds and happily accommodate groups and families. You will have access to the entire 3rd floor plus the back deck.
The Loft does not have a full-size oven but does provide everything you need to cook a meal. You'll find a toaster, toaster oven, microwave, a 2 burner electric stovetop, pots, pans, a crockpot, and an air fryer.
There's ample room for 6 guests to gather around the dining room or sit by the giant windows overlooking Main and enjoy a cup of coffee on us. Each room is cozy, comfortable, and private with modern amenities including central air conditioning.
"The loft is located right in the heart of Honesdale's Main Street. Breweries, coffee houses, shops, and venues are all within a few blocks. It's a one-of-a-kind space, a remodeled 1800s building updated with modern and comfortable style Definitely a great home base for local adventures, or to experience all that Honesdale has to offer."

"What a lovely place to stay! The decor is fun and comfortable at the same time. There are many things to do in Honesdale, but it remains a quaint town. The hosts are very helpful and friendly."