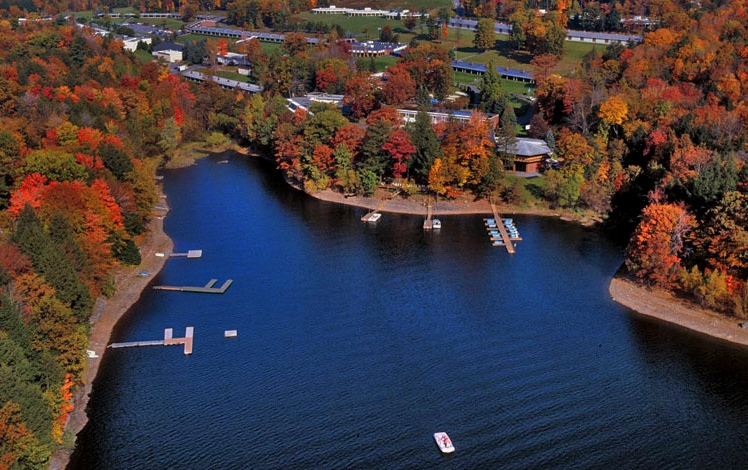 Cove Haven Resort is a lakeside couples-only Poconos resort 10 miles from I-84 and a short walk to Lake Wallenpaupack. Cove Haven offers 5 different bars and lounges, 2 restaurants, a nightclub, indoor and outdoor activities all over the property, and the ever-changing seasonal beauty of the Pocono Mountains.
Romantic suites have Bose radios, minifridges, and whirlpool tubs. Optional features include fireplaces, private indoor pools, massage tables, and saunas. Egyptian-themed 4-level suites include 7-foot tall champagne glass-shaped whirlpool tubs and heart-shaped pools.
Breakfast and dinner are free. A resort fee includes entertainment, indoor and outdoor pools, tennis courts, ice skating, mini-golf, hiking, and fishing.
Cove Haven Resort is part of a tiny chain of romantic, couples-only resorts in the Pocono Mountains. There's a shuttle to the sister hotels, Pocono Palace and Paradise Stream.
"It needs to be renovated (Sept 2021). We paid for the "Starlight" room and the star lights didn't work, many of the other lights flickered from time to time. The door lock also gave us trouble but the front desk told us that all the property needs to be renovated so apparently all of the star lights are like that. Bedroom aside the activities were all pretty aged lol. But the food was fantastic and the servers were all amazing. Every single server/worker was friendly and welcoming. My wife and I have stayed at Pocono Palace in the past and we highly recommend it. Cove Haven I'm sure will be better once they finish renovating."