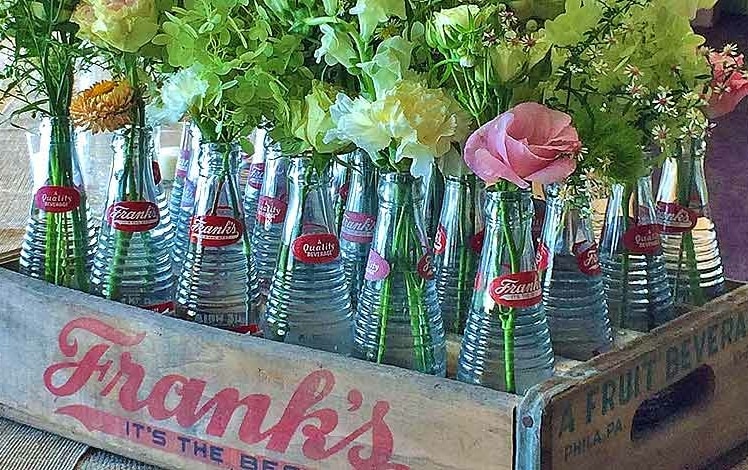 Earthgirl Flowers presents floral artistry and says "Getting hitched? Having an affair? Give us a ring. Invite us to be your flower girl." We would – her work is super pretty.
She's located in North Branch, aka Callicoon Center, a hamlet in the town of Callicoon.
"Operating out of a century-old barn bounded by cut flower fields in Callicoon Center, Earthgirl Flowers is run by self-proclaimed "petal pusher" Jill Wiener. In order to gather the best budding blooms for special occasions, Earthgirl sources first from their own gardens and then from the fields of other local farmers, while also maintaining access to a global network of responsible growers. Always on the hunt for antique additions to their expansive inventory, Earthgirl's offerings include a varied selection of vintage vases and vessels that are always available to loan."– Chronogram
She's been covered by Country Living Magazine, Houzz, and Martha Stewart Weddings.
"Jill is your dream wedding florist. Not only is she extremely talented, but she is such an absolute pleasure to work with. Jill is so down to earth(girl), flexible, understanding, and helpful. Jill delivered absolutely beautiful arrangements for our wedding. We loved the way all of the reception table arrangements were unique from one another and that she took certain artistic liberties that worked so well. I absolutely loved my bouquet and it looks so beautiful in the photos. I was able to dry it out and it's currently on our kitchen counter as a sweet reminder of our beautiful day. I strongly recommend that you have Jill as your flower girl!"
Her collection of antiques and vintage props are available for rent for your special occasion.