Grandma Goldsack's Bakery
Grandma Goldsack's is an old-fashioned bakery that sells breads, pastries, and cakes. Everything is made by hand and baked on the premises. There's not an overly wide selection on any given day, but every item is delicious and fresh.
Grandma Goldsack's bestsellers are her crumb cake, cheese and cherry danish, blueberry muffins, croissants, braided Challah, strudel with apples and raisins, and chocolate rugelach. They make black & white cookies, bagels, turnovers, cinnamon rolls, pies, apple turnovers, and more.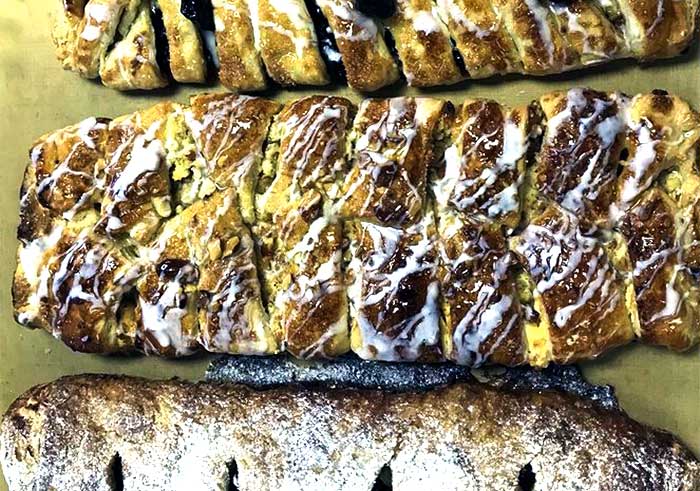 ""We want to bring everyone back to that place when they were young and went to their favorite bakery. It's the taste that brings them back. We feel glad when people feel they are back in their hometown bakery."– Grandma Goldsack
Super warm hospitality. There are a couple of tables where you can enjoy coffee, espresso, mocha, or a cappuccino. Grab a Manhattan Special soda.
"As a snow bird from Florida and a native born Bronxite, it's hard to find a good bakery, whether in Florida or here in Lake Adventure, in Lords Valley. Well we've found heaven, a pastry shop close to out summer place just outside of Hemlock Farms community entrance. Crumbcake to die for,cheese danish and sfogliatel to put up against any bakery on Arthur Avenue. The giant apple turnover looked like it was overstuffed with apple. The bread is delicious too. Well savta Goldsack's, we'll be coming there for more. This place is great, don't pass it by. You'll go back for more."
It's located just outside the gates of the beautiful Hemlock Farms community on Hemlock Farms Road.