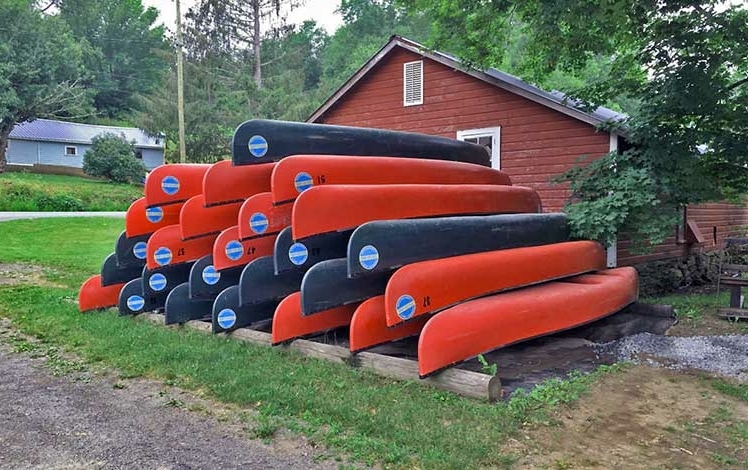 Soaring Eagle is a small family-run and owned campground on the Upper Delaware River. Enjoy the natural, peaceful beauty of the scenic river, winding through the Pocono/Catskill Mountains of Pennsylvania and New York. Sites are spacious and prices are fair. There are lots of riverside sites.
The campground is situated on the Delaware River and provides great access for kayaking and tubing. The campground offers canoe, kayak, and tube rentals.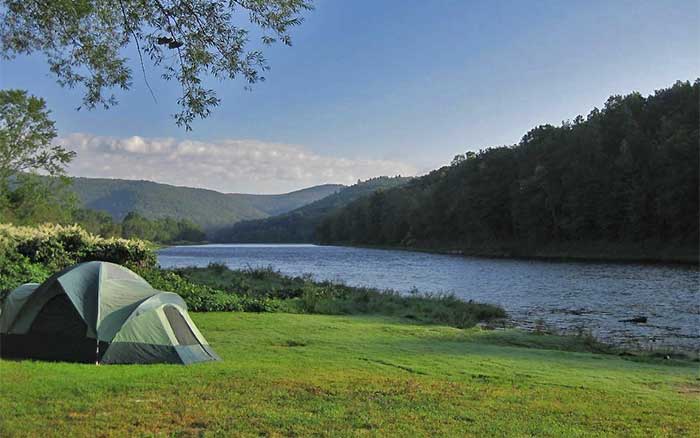 There are about 50 campsites, with various amenities. Some have AC and water, others do not. Fire pit and picnic tables are provided. There is a bathroom facility with showers and dishwashing sinks. Some campsites are on the water, others are in the woods. The facility has canoes, kayaks, and tubes available for rent and will bring you up the river.
"This is one of my favorite campgrounds. The best part about this campground is it's small! It feels more laid back, more peaceful, especially since our tent site was right by the creek! The sound of the creek helped me sleep. We had to drive through the creek to get to our spot which was really cool! The staff is super friendly. They let us check in late (it took us 4 hours to get there from South Jersey). They have canoe and kayak rentals. The campground is just so well maintained. It's not like those "commercialized" ones that have a million people and you're on top of each other's site. We will definitely be going back. I highly recommend this place."
Fishermen love this campground. It's located right on the Delaware River just above the famous Kellam's Bridge. You can catch the shad running in the early spring. We have some of the best fishing along the river; with scrappy, smallmouth bass, trout, and walleye. Easily travel up or down the river for better fishing spots.
Enjoy the privacy and tranquility of the river, with room to breathe! You will marvel at the wildlife that is natural to the area. You may even spot a soaring eagle or two that nest nearby
"The sites were amazing and clean. The scenery was beautiful. They have vans that will take you upriver and you can float or kayak right back down to the campsite. No tube? They rent tubes, tube coolers (very important), canoes, and life jackets. The staff they have are super nice. We had an amazing time. I would recommend this place to anyone!"
The Upper Delaware area has been preserved and unspoiled by the families that have lived on the river for centuries.
You're just 9 miles from Equinunk General Store where you can enjoy homemade breakfast and daily lunch specials and Saturday barbeque. Their grocery stock includes locally produced food. Cheese from Calkins Creamery and ice cream from Creamworks Creamery. Penny candy, too! The View Saloon is a fun dive bar in Equinunk and a hangout for area campers. Burgers, sandwiches, and a pool table.