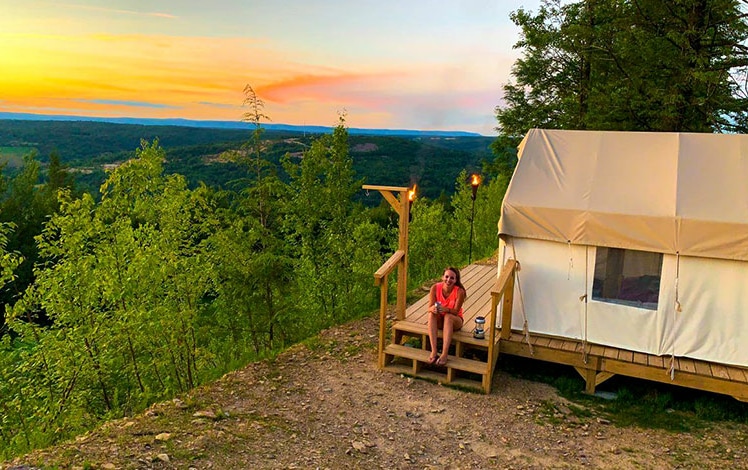 Campsites at Blue Mountain Resort
Campsites at Blue Mountain Resort are just off the ski trails of Blue Mountain Resort and provide seclusion and views of the Pocono Mountains.
Choose from 25 sites around the mountain, each with its own unique setting and view. There are basic tent camping sites, RV sites, 11 glamping sites, and 10 person group camping tents.
In the summertime, head for the other hill, where you can spend the day at Blue Mountain's Bike Park.
Basic sites in 2022 are $40 and include access to bathrooms, showers, and firepits. Glamping sites start at $169/night. Are we missing something here?
For the basic tent sites, rental equipment is available on request, or bring your own tent. Firewood is for sale in the camp store.
RVs are welcome, but there are no hookups. Group camping is available for up to 80 people. The group sites are divided into 8 campsites with a tent that accommodates 10 people each. Alcohol and pets are permitted.
Pair your stay with Blue Mountain Resort outdoor adventure activities for the ultimate getaway. You're just around the corner from Claude's Creamery serving hand-dipped and soft-serve ie cream.