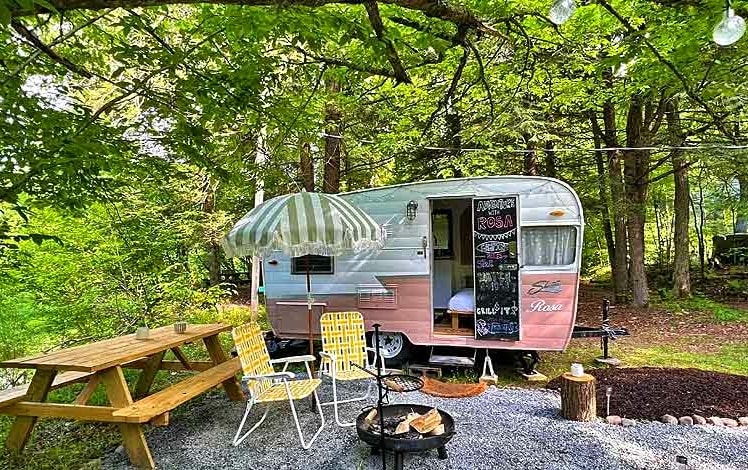 Boheme Retreats is located within the Covered Bridge Campsites in the Western Catskill region along beautiful Willowemoc Creek. It creates inclusive outdoor camping experiences. Experience the great outdoors without "roughing it" as you enjoy the tradition of camping in restored RVs from the '60s and '70s.
Travel + Leisure writes "Niver prioritizes hiring guides of color for her guests who may want to try a guided hike or a day of fly fishing. It's all part of her goal to make the outdoors more inclusive and ensure that non-white travelers feel safe and welcome in the greater camping community."
Thrillist says "Hidden away in an angler's paradise on Willowemoc Creek, surrounded by 500 acres of the Catskill Forest Preserve, Boheme Retreats is breaking the RV campsite mold with its mission of inclusivity. In creating a retro escape where every traveler can truly relax in nature. Owner Keva Niver aims to redefine the RV experience and make it a welcoming space for all."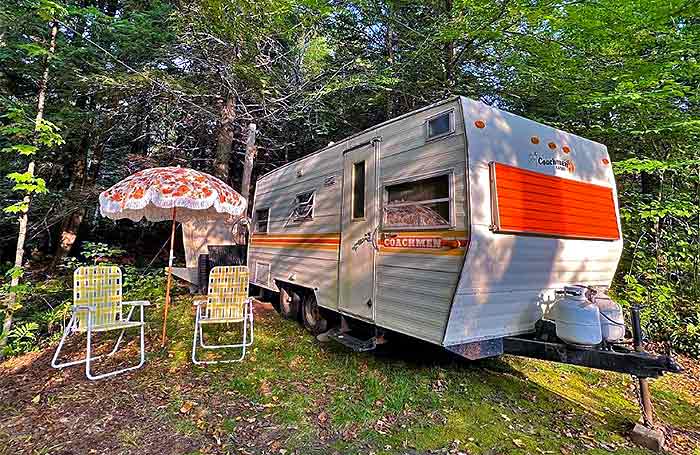 Among the five dashing vintage campers, spaced 25 feet apart, there's a two-person Dutchcraft named "Shirley" and a four-person trailer called "Fannie" with two full beds and a sleeping loft. Campers are equipped with full bathrooms and a kitchenette stocked with essentials. Each site has a picnic table, umbrella, fire pit, and river tubes (available on request).
Bonus: the 1964 Franklin is pet-friendly, and so are Shirley, the 1978 Dutchcraft, and Leona, the 1973 Coachman.
All Boheme Retreats trailers are grouped to create a vintage style escape. Experience a retro camping adventure. Enjoy fishing on site, waterfalls, and hiking just steps away. A perfect place to disconnect, unwind and relax in nature.
"I stayed in Rosa, a vintage Shasta camper that has been renovated to perfection. She has all the amenities one could need to spend time away from the hustle and bustle of your daily life. I was able to enjoy the great outdoors without the hassle of pitching tents and sleeping bags. While she is tiny, there was plenty of room to move about inside the camper and the pull out futon was perfect for a good nights rest. I will definitely be visiting again with friends and family."