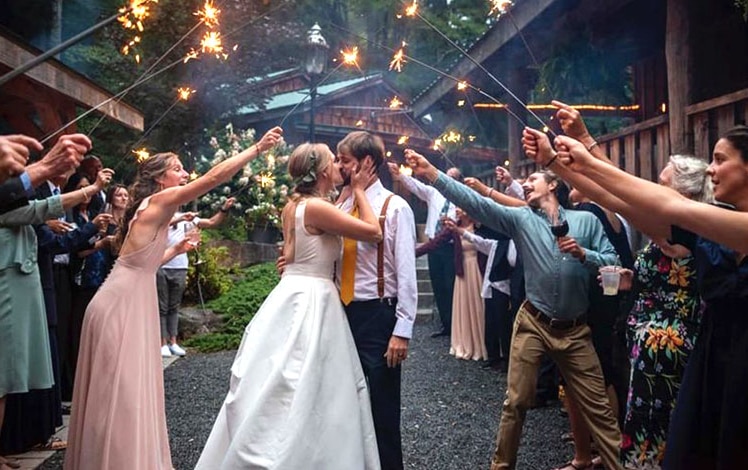 Tall Timber Barn
Tall Timber Barn hosts just one wedding per weekend. It is an entirely private venue built in the middle of the woods in beautiful Canadensis. When you come upon the stately lantern-topped stone pillars of the grand entrance off a country road, you immediately feel that you've happened upon something very special.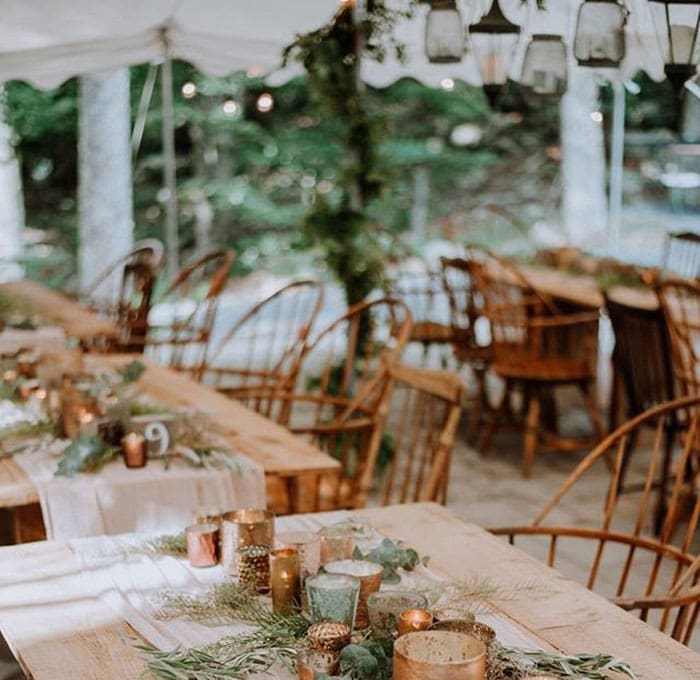 Tall Timber Barn can host micro weddings for 12 to affairs for 115 guests. Just off the barn porch is the large dining pavilion with its courtyard, a beautifully designed dining space. Set in the forest, Pavilion in the Pines is a dining space for guests, giving the feeling of dining in a treehouse. Chapel in the Pines, ideal for ceremonies, is located close to the barn.
Tall Timber's small pavilion hosts a long farm table down the middle to sit 22, or four farm tables to fit 40. Graced by an exquisite antler chandelier, it feels like you are dining in a treehouse, tucked into the forest! Tall Timber's larger pavilion is an elegant structure of beams, hanging lanterns, in the shape of an L with long farm tables for dining. There is a cozy courtyard with bistro lights, large pines in planters, and a landscaped boulder wall with soft lavender, hydrangea, ornamental grasses, and creeping myrtle.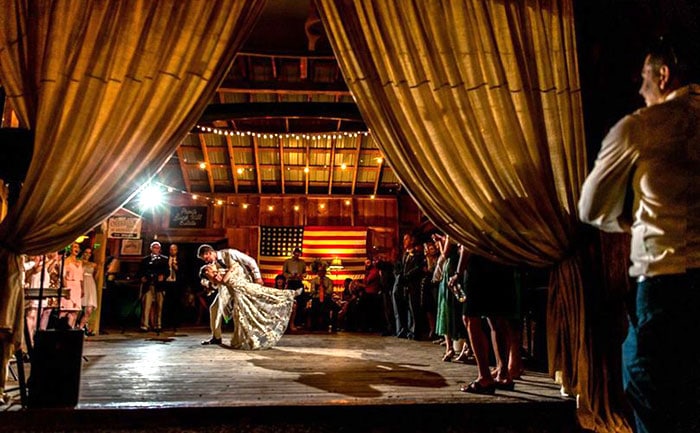 The site is fully shaded, with sunlight filtering through the leaves. The venue is seasonal, with limited availability during summer and fall months.
Included you'll find two firepits, farm tables and chairs, table linens, lighting, vases, antique silver, and more, with a designer to help you create a look of your own.
"Words can not describe how amazing our wedding at Tall Timber Barn was. It felt like a fairy tale dream. Everything from the gorgeous ceremony, to happy hour, dinner, and reception was exceptional. People could not stop telling us how this was the best wedding they have ever been to. There is just something in the air in this place.

Michelle, our coordinator, was absolutely amazing. She went up and beyond to make sure our day was perfect, Responding to us within 24 hours and working with our specific needs. The food, ambiance, and everything was something so special it felt like a dream. Lots of space for dancing during the reception as well. I love how the venue has the option for dancing and chilling for the guests (though most of us were dancing). I highly suggest Tall Timber Barn if you are looking for a unique, intimate, rustic, and fun wedding. A day we will never forget!"