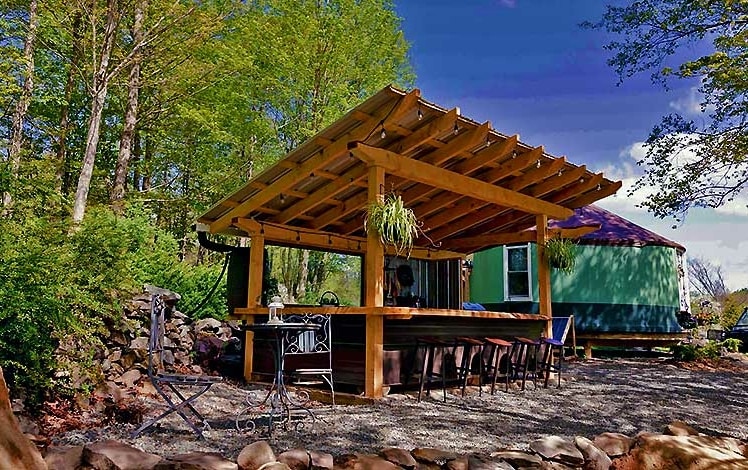 This Yurt at the Farm! allows you to relax in nature in a unique and tranquil setting. The yurt is located on a 40-acre working farm with grazing cows, sheep, and chickens. This peaceful yurt is completely secluded and private – tucked on a grassy knoll in a wooded area that overlooks the pasture.
It's located in the lake region with a mecca of outdoor activities. You're 7 miles from Lake Wallenpaupack, a vacationer's dream for boating, fishing, and everything for water sport enthusiasts. The area also offers many dining options that dot the shoreline that are cozy and inviting and have a beautiful view of the water. You'll be just miles away from two major state parks that offer hiking trails, swimming beaches, and water sports.
The small town of Newfoundland is just an easy 2-mile drive away. There is a large grocery store and friendly bars and restaurants. It's a small friendly town that invites visitors from out of town.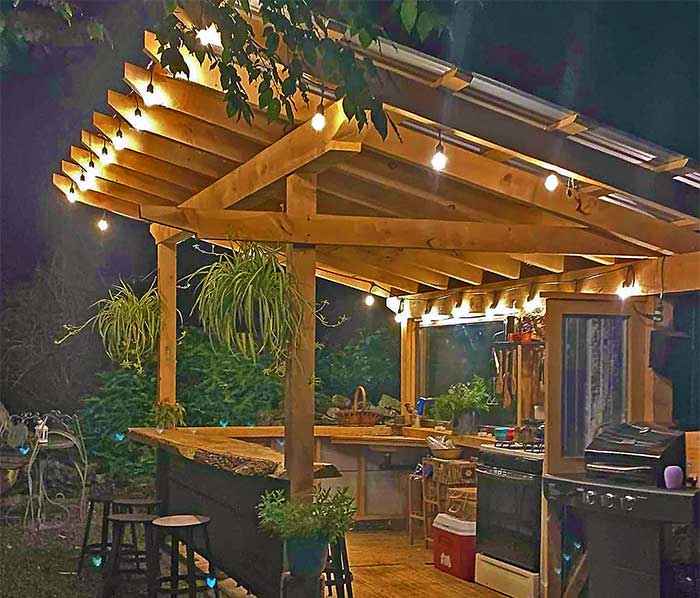 There is an outdoor kitchen/bar that looks over the fields. There's a propane stovetop (no oven) and a propane bbq grill. There are numerous seating and eating areas in a garden setting. Propane is provided.
They have a campfire area and provide the first bin of firewood. Any additional firewood is available for purchase by the honor system ($10 for a large bundle). If you prefer to bring your own firewood that is fine too!
The yurt is off the grid – there is no electricity or running water. A small solar panel provides a limited energy source. There is a porta-potty and you'll water from containers for cooking and cleaning. They recommend that you bring flashlights, lanterns, or headlamps to get around outside and to find the porta-potty at night.
"Britt and Kelly, thank you for sharing your yurt with my family. My son and daughter both enjoyed being welcomed by your puppy. While we all enjoyed sitting around the campfire, my son, the astronomer, particularly enjoyed the clear visibility of the night sky. The outdoor kitchen is an excellent addition and would undoubtedly be a nice place to enjoy a quick meal or cup of coffee with friends. We look forward to our next trip, perhaps sometime in the spring. Again thank you for this incredible opportunity to experience your yurt on the farm with my children."