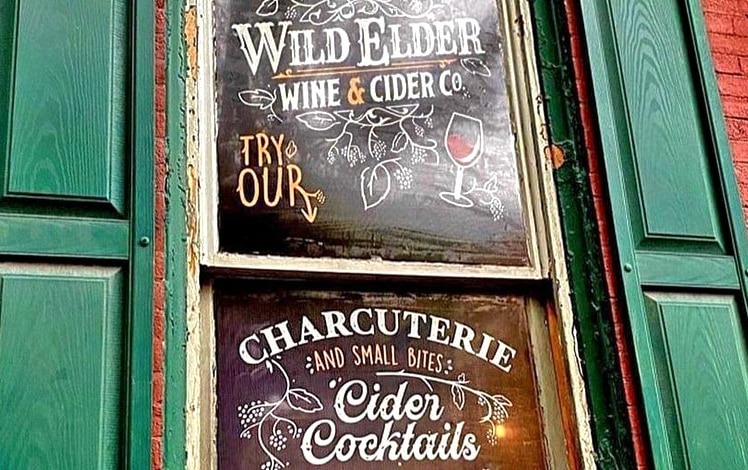 Wild Elder Wine and Cider Co.
Wild Elder Wine and Cider Co. produces fine Elderberry Wines and traditional ciders from locally sourced and wild foraged ingredients.
Flights and glasses of wine and cider in the tasting room of the charming Wild Elder Wine and Cider Co. include black elderberry wine, hard elderberry cider, and hard apple cider. They've also got pints of their famous Elderberry syrup.
In addition to small-batch wines, ciders, wine slushies, and cider cocktails, they offer plenty of non-alcoholic beverage options, charcuterie, sandwiches, and desserts. Stop by Sat/Sun 11-3pm for their weekend brunch charcuterie. They've got sandwiches for lunch everyday!
Charcuterie plates include PA Dutch, Classic Italian, and Vegetarian. Pick up some ginger beer or elderberry syrup.
Oh, and while you're here, be sure to Bring Fido for your visit!
From Josh Finsel, Winemaker:
"Woodsmoke, wild blueberries, soft mossy stream beds, and 1970's folk harmonies all trigger memories of a childhood on the corner of a family farm tucked back a windy dirt road along the Lehigh River in the hills of Northeastern Pennsylvania. Banjos, photography, herbalism, and dandelion wine mark the coming of age. New England rock faces, beaches, and long trails, Oregon Pinot Noir, snow-capped mountains, the french fry exhaust of a veggie oil-powered school bus crossing the country once, then twice, Tuscan small farm Chianti, Rome Italy, a time of adventure, travel, marriage, fatherhood, and entrepreneurship."