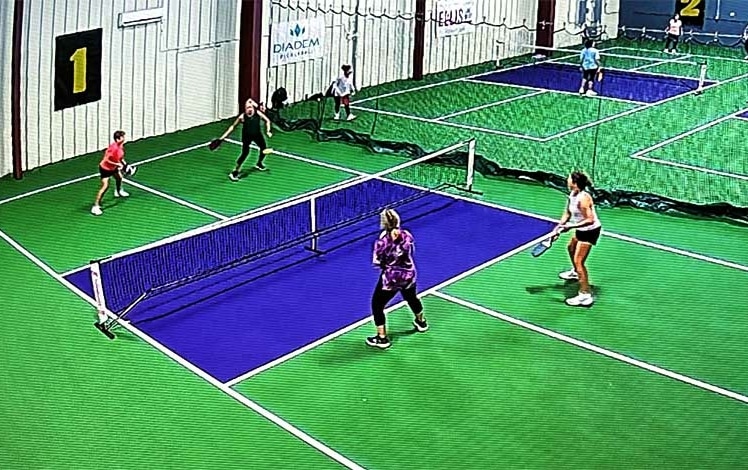 Dropshots Pickleball offers premier pickleball play in the heart of Northeastern Pa. It is located within The Sports Factory of NEPA.
Pickleball is a hot topic. The New Yorker has written about it. It might be the fastest-growing sport in America.
Pickleball combines elements of tennis, badminton and pingpong, creating an odd love child of a game that's a favorite of senior citizens, small children and everyone in between.
And "It's easy to learn… people can walk in" and start playing. "It really is addictive," says owner Christine Davis.
Dropshots is a premier pickleball complex providing state-of-the-art cushioned, indoor tournament-grade courts. It offers open play and court rentals for picklers of all levels, classes, clinics, and leagues. Lots of exciting special events.
It offers three indoor cushioned courts to support gameplay for all ages and athletic abilities.
Whether you are a seasoned pickler or you're ready to pick up a paddle for the first time, you're welcome here. If you are brand new to the game, their one-hour First Timer Class is for you. Designed to help you learn the rules, get a feel for the paddle, and start dinking! It includes a 15-minute tutorial and 45 minutes of open play with other newbies. It's $10 for a one-hour class.
"Dropshots Pickleball is the newest big thing in the Honesdale – White Mills – Hawley – Lake Ariel area. We love this place! The facility is immaculate and the courts are brand new. The pro shop had everything we needed to get started, and they even offered private lessons and group lessons. Indoor sports is a luxury for us here in the Poconos and a great way for our family to get and stay in shape. Owner/Managers Matt and Christine are warm people who are great to interact with."