Red Canoe Lakefront is a fully appointed beauty. It hosts 12 guests in 4 bedrooms with 8 beds and 2 bathrooms, along with high-end furnishings and finishes. It is nestled in the amenity-rich Big Bass community.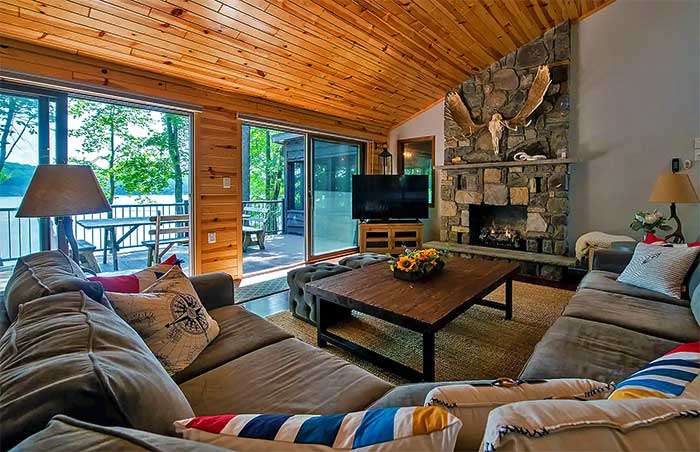 Enjoy the day on the water via the private boat dock. Included in your stay is exclusive use of the dock, 2 kayaks, 1 canoe, and 1 pedal boat. Spend it hiking at the nearby Gouldsboro andTobyhanna State Parks. At night, enjoy the 7-person hot tub, outdoor fire pit, indoor gas fireplace, and foosball table. Hint: If you search Essentials, go to the Daleville tab on the page.
It's great for remote work with a dedicated workspace and a fast WiFi mesh network. Guests can work wirelessly and seamlessly anywhere in the house or out on the deck that provides elevated outdoor space. The house has 4 WiFi TVs and 3 distinct outdoor spaces.
The 3-sided retro arcade has over 1,000 games, like Ms. Pac-Man, Pac-Man, Galaga, Donkey Kong, Frogger, Super Mario Brothers, Mario Brothers, Mario Brothers, Defender, Joust, Asteroids, King of Fighters, Marvel vs Capcom, X-Men, TMT, Simpsons, and more.
Bring the babies! A Pack 'n Play Travel Crib and a highchair are always at the listing.
The Big Bass Lake community offers three lakes, two of which are complete with sandy beaches. There are picnic and playground facilities. There are tennis, basketball, and volleyball courts. There's a marina, a ski hill with a T-bar pull, a tubing hill, an indoor and outdoor pool, a dry sauna, and a clubhouse.
If you search for grocery stores and other necessities on our Essentials page, go to the Daleville tab on the page.
"Highly recommend the Red Canoe Retreat! We stayed with a group of 9 and could not only sleep comfortably; we had enough kayaks, canoes, paddle boards, etc. to all have fun on the water simultaneously. The kitchen is spacious with a deck/grill right outside for additional seating when it's time to eat. A fireplace and dock right next to the water where we enjoyed most of our time and there was enough wood to keep the fire going all weekend. The hot tub was just another plus. Book this stay while you can!"