Great Wolf Water Park Resort
Great Wolf Water Park Resort is a sprawling, 400-room Poconos resort and waterpark. It is the Pocono Mountains outpost of the wildly popular waterpark-themed chain of Great Wolf Resorts. The resort is child-centric with plenty of amenities that appeal to parents as well.
This massive indoor waterpark in Pennsylvania has more than enough activities to keep family members of all ages occupied and satisfied, whether you're there for a day trip or a long weekend. Together, the whole family will have a blast splashing around in the interactive four-story water fort treehouse, catching the waves in the zero-depth entry wave pool, or floating down the lazy river.
Not staying at the lodge? Grab a day pass and have a blast!
Thrill-seekers will love zipping down the adrenaline-pumping tube slides, raft rides, twisting body slides, and hair-raising water roller coasters. Those looking for a challenge can play a game of water basketball or test their strength and balance crossing the large floating lily pads.
For the littlest ones in the family, there's a kiddie pool and playground with water attractions and activities made just for them. And when it's time for mom and dad to take a break and enjoy something for themselves, there's an adults-only hot springs area to kick back and relax.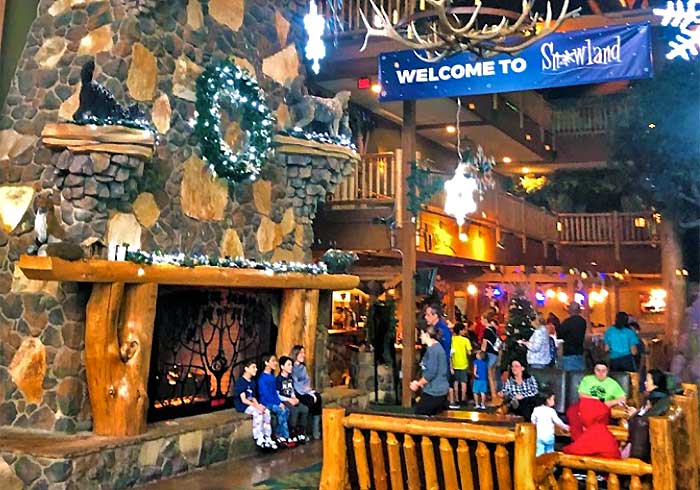 The main activities of this Poconos resort center around the 84-degree indoor water park. The Howlin' Tornado and Hydro Plunge water coaster thrill rides co-exist with tamer activity pools and zero-depth playgrounds, including the Cub Paw Pool for the little ones. Consult with one of the resort's "pack members" for a list of daily activities at check-in.
A Parent in Silver Spring says: Our verdict? Great Wolf Lodge Pocono Mountains was every bit as awesome as the commercials on TV. And it was not a budget breaker! I was completely surprised and we were all completely into our howling good time at Great Wolf Lodge.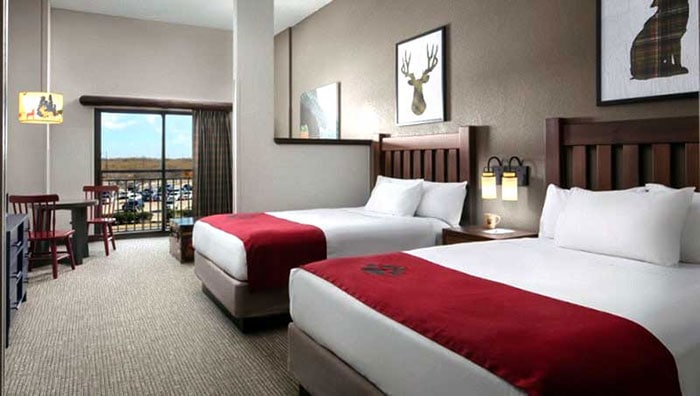 Lodging is offered in a series of suites from the standard family suites to the premium suites which house up to eight people. Mid-range suites are "themed", including the cabin-themed "Kid Cabin", and the tent-themed "Wolf Den" and "Kid Kamp." Suites feature living areas with TVs, pull-out sofabeds, microwaves, mini-fridges, and coffeemakers. Some suites include balconies or patios.
Standard rooms at the all-suite resort, which sleep up to 8, begin at $399.99 a night. Check often for special offers and deep seasonal discounts, sometimes up to as much as 50%.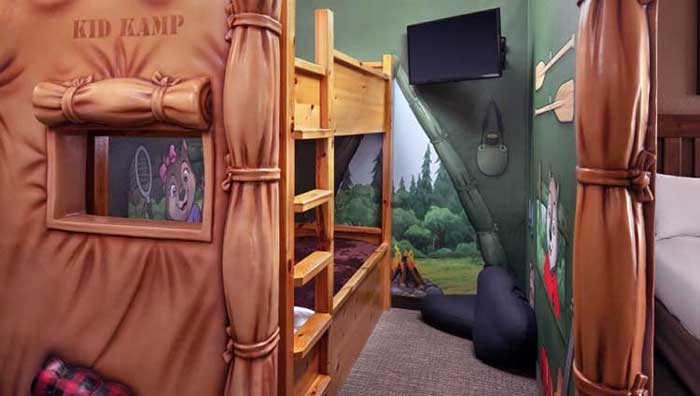 Feed yourselves and the kids at 4 on-site restaurants. The adults can take a quick break at Grizzly Rob's bar, situated close by the waterpark. There is a Dunkin' Donuts on the premise, along with a bar and grill, a family buffet, fast food, and a pizza and pasta take-out. Other amenities include a spa and free parking, while adventure activities and mini-golf are also available. A resort fee includes water park passes, Wi-Fi, parking, access to the fitness center, and a mind-boggling number of activities for kids.
Spring, summer, and fall, take advantage of the rope course, play park, and outdoor slide. There is a bowling alley, a 3D theater, an arcade, an indoor mini-golf course, and much more. Parents and the whole family can enjoy a relaxing soak in the heated South Hot Springs year-round.
The resort also offers a full schedule of free, family-friendly activities such as crafts, costumed character appearances, game nights and story times is offered to keep everyone busy from dawn until dusk.